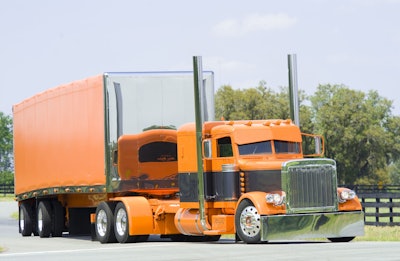 One way we are celebrating the 30th anniversary of Overdrive's Pride & Polish is by looking back at the 30 most-popular Pride & Polish show truck videos from our YouTube page.
We are running through the videos from the No. 30 to the No. 1 most-viewed Pride & Polish video. Overdrive is holding a virtual Pride & Polish competition this year in lieu of a live event due to the COVID-19 pandemic.
Finalists and winners will be presented Aug. 28 in a virtual event streamed on Overdrive's Facebook page as part of Overdrive's GATS Week, Aug. 24-28. It will begin at 8:30 p.m. EST, following the finale of the Overdrive-Red Eye Radio Trucker Talent Search, which begins at 8 p.m. Former "American Trucker" host and trucking advocate Robb Mariani will emcee the Pride & Polish awards.
Up this week at No. 2 is Vinnie Diorio's 2005 Peterbilt 379, "Picture Me Rollin'." The truck appeared at a number of Pride & Polish events in the late 2000s and early 2010s, picking up several trophies along the way, including Limited Mileage Combo Best of Show at the 75 Chrome Shop event in Wildwood, Florida, in 2011.
The highly customized Pete featured a minimalist dash, a smaller steering wheel, painted aluminum floor and more in the interior, coupled with a matching orange exterior with gray stripe that extends back to the Mac roll-tarp trailer.
Be sure to subscribe to Overdrive's Custom Rigs free weekly newsletter to catch all of our Pride & Polish coverage.