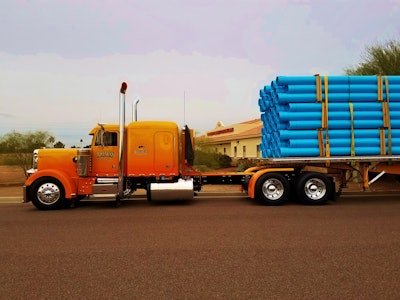 Avondale, Arizona-based independent Ron Kelsey has been trucking since the 1970s and has been an owner-operator since 1984. That's also the year Kelsey purchased his 1981 Peterbilt 359, which earned several honors in the 2021 Overdrive's Pride & Polish online competition.
Kelsey's "Sunrise Express" won first place in Antique; third place in Interior; and third place in Working Bobtail, 2008 & Older.
He started driving the truck in 1983 and bought it from the original owner the next year before leasing on with Landstar-Inway. He ran leased for 10 years before going fully independent in 1994.
Since that time, Kelsey has been running for two direct customers hauling pipe and steel.
"I'm very fortunate to have the people I haul for, for the last 27 years," he says. "One outbound and one coming back. I don't have to use brokers. I don't make phone calls. They give me the loads, and it's very relaxing. No stress."
The 62-year-old independent says he's slowed down to running a couple runs a week from Arizona to Texas and back. He ran California often in the past, but with the advent of emissions regs in the state effectively banning equipment as old as his own, it's tougher for him to run the truck in the state. Since slowing down, Kelsey's averaging around 80,000 miles a year on the unit's odometer.
Though "it's never gotten old," he says of the truck. "I've just constantly modified it. I've had friends in the customizing hot rod business forever. We've done three complete interiors, and in the beginning we did door panels and things like that."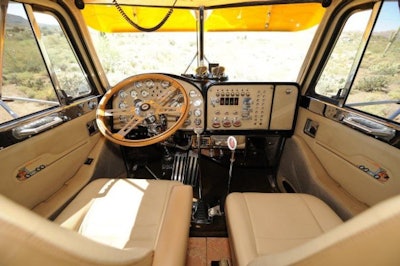 "I've got a nice little niche thing going on," he says of the freight. "I'm home every weekend. When I ran L.A., I was only gone about 20 hours, then I'd be home every other night and every weekend. When I run Texas, I'm home every three days."
Kelsey has added a bevy of custom touches over the 37 years he's owned the truck, including a custom leather interior with marble floor, Vortox air cleaners, a drop visor, a custom paint job that fades from orange to yellow, and ghost flames on the half-fenders, front fenders and hood. He also custom made the front fenders with drop sides and added chrome rear light bars, custom deck plates with ghost flames and plenty LED lights. The rig also features 7-inch stacks painted on the inside and with LED lights for a nighttime glow effect.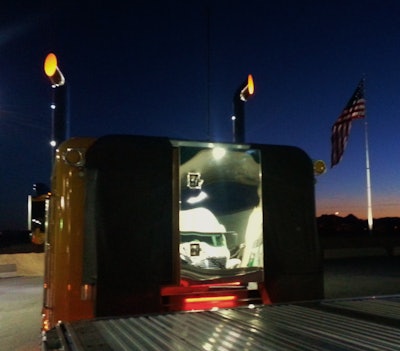 The truck turned over 4 million miles earlier this year, but the current engine – a C15 Cat putting out about 800 hp – has about 350,000 miles on it. Kelsey runs a 10-speed transmission with a 4-speed auxiliary and 3:36 rears. The truck was originally powered by a Cummins, which Kelsey rebuilt about 10 times before switching to a Cat 3406E. He put 1.5 million miles on that engine before switching to the 1996-model C15 in August 2019.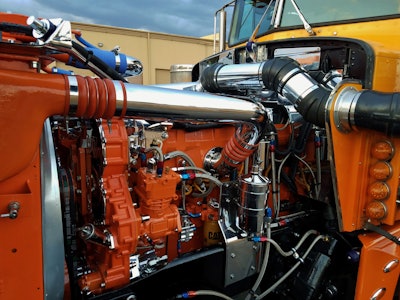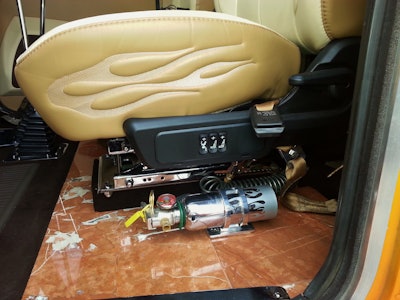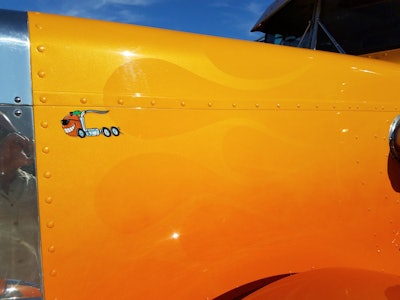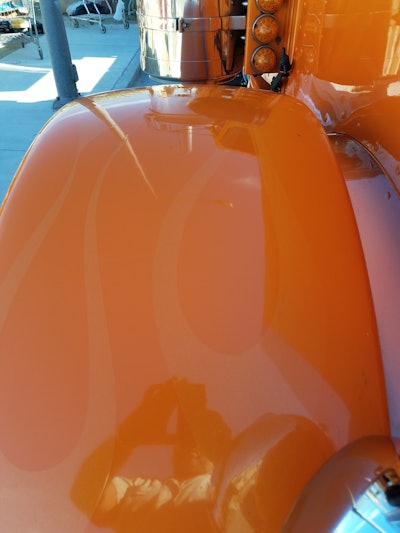 [Related: Rob Hallahan's 'Joke's on You' 2022 389 and Great Dane van – Pride & Polish Limited Mileage champ]