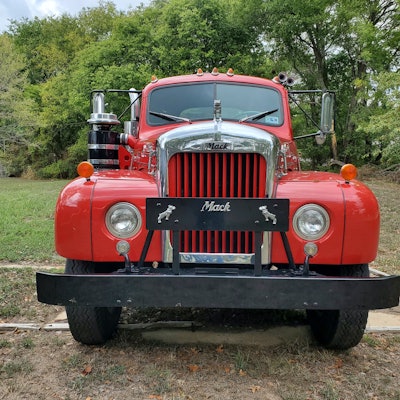 Marvin Graves has been involved in the trucking industry off and on for more than 60 years. He started out as a company driver and later became an owner-operator before coming off the road to help truck drivers in other ways.
Cortez, Colorado-based Graves, now 76, got his start in the industry when he was 16 years old, working for a construction company hauling equipment.
The owner of that company "had two old B61 Macks" that were used to haul heavy equipment, and he taught Graves how to drive. "That was always my desire -- to be a truck driver. As soon as I got old enough, I went to work down in Houston, Texas."
Graves left Colorado for Texas for work with an oilfield-support carrier, J.H. Rose Truck Line, where he hauled oversize and overweight equipment. He worked for Rose as a company driver for a number of years and, after a very brief stint working as an assistant terminal manager at J.H. Rose's Tulsa, Oklahoma, terminal, he bought a truck and became an owner-operator for about 12 years before beginning his next endeavor.
J.H. Rose sold out in the 1980s, and Graves went to drive for Hill & Hill Truck Lines, another oilfield-support carrier, until they also got out of the business.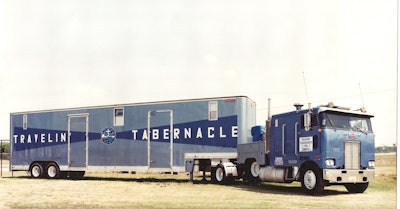 At that point, Graves turned his focus on supporting the trucking industry in a different way and launched a truck stop ministry -- "Truckin' Troubadors for Christ."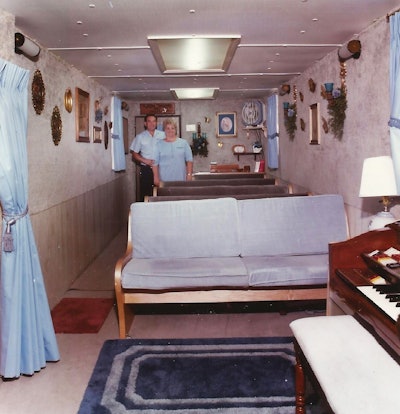 "After I quit running from the Lord, I looked around and got to thinking about the guys I worked with and the problems they had," Graves said. "The temptations that happened to us out there on the road, some of us succumbed to them, and that ultimately led to problems at home. I understood all that and thought I would see if I could do my part" -- to help his fellow truckers.
After coming off the road, Graves sold his old Mack W-Series cabover, which had powered his owner-operator business -- a decision he later realized was a mistake. When starting the truck stop ministry, he had an Oldsmobile and a camper, but many truck stops weren't letting him set up. He soon obtained a 1972 Peterbilt cabover from Ebb Rose, of J.H. Rose, and bought a trailer and transformed it into a mobile chapel.
Graves said Rose's truck was a "show truck in its day," and Rose "had it all fixed up."
The rig "got us into the truck stops," Graves said. He and his late wife, Paula, would take two loops a year -- one from Texas to Montana and back, and one from Texas to Minnesota and back. Along the way, they would stop at a truck stop for about a week at a time, traveling on Mondays and being set up Tuesday through Sunday. Each Sunday night, they would go to a local church in the area to show the truck.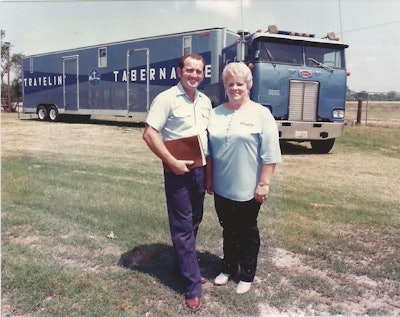 With "Truckin' Troubadors," Graves said "we're transporting Jesus to the truckers through country gospel music." He has written gospel songs geared toward truck drivers and has put out seven CDs through the years.
The Graves' kept the traveling routine for about 13 years, from 1982 through 1995, until Marvin's father got sick and they came off the road. His father passed in December 1996. With the time off, Graves lost many of his old contacts at the truck stops.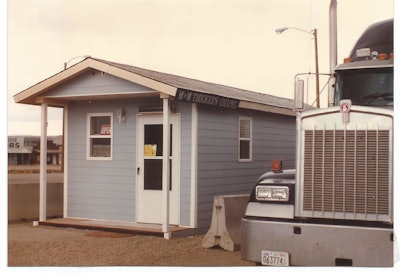 The M&M Truckstop in Graves' hometown of Cortez, Colorado, became a more-permanent location for the chapel through 2014.
Through the years, Graves said they averaged about two or three drivers stopping into their chapel daily, either for a church service or just to talk about what they had going on. "It was mostly just listening to them," Graves said. "We didn't really have a structured format, just whatever the driver needed."
Graves has been out of the truck stop ministry since then and has been doing pastoral work in and around Cortez for several years.
With the recent purchase of his now award-winning 1963 Mack B61, however, Graves is working his way back to driver-focused ministry.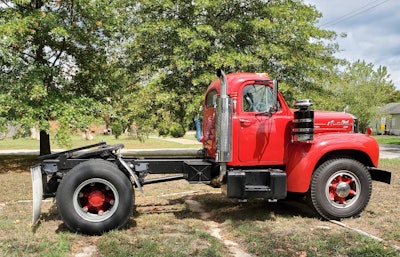 Graves' Mack won first place in Overdrive's 2022 Pride & Polish virtual competition in the Limited Mileage category. Winners in each of seven categories were determined by Overdrive readers during a three-week voting period.
Since a Mack B61 was the first truck Graves drove back when he was 16, he'd always been on the lookout for one to purchase himself. He found the truck in Louisiana through a friend of a friend. The owner had two B61s -- the single-axle that Graves bought, and a tandem-axle with a gasoline engine, which Graves said he "wasn't too interested in." The owner hadn't thought about selling either of the trucks when Graves reached out, but after some negotiation, they struck a deal in the summer of 2021.
Graves said the truck had been sitting in a barn for about five years; before that, it was owned by the man's grandfather, who had it on a farm in MIssissippi. "My understanding is these trucks have been in his family a long time, maybe since they were new," he said.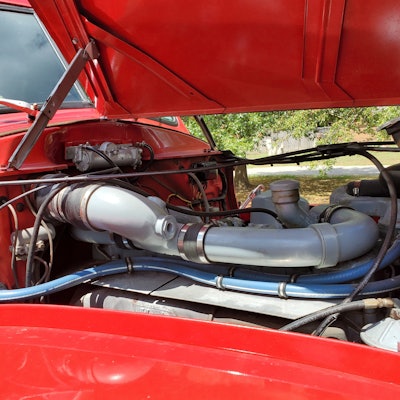 When he bought the truck, Graves said it was in mostly good shape, needing just light mechanical and minor cosmetic work. The biggest issue was a wheel seal that had to be replaced. Other than that, replacing some air lines and fixing a couple oil leaks was about the extent of the work needed. Graves hasn't had to touch the paint.
"Everything seems to be in good shape," he said. The previous owners "did a good job" when they restored it.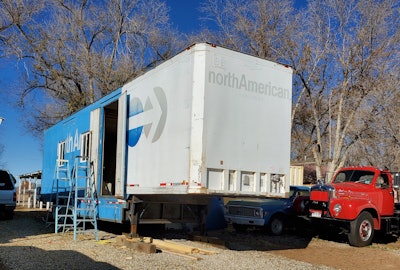 Even though the old M&M Truckstop closed years ago, Love's Travel Stops has come in and is planning to open a new store in that location. "As soon as they open up the truck stop here, probably next spring, we'll have that trailer ready, and we'll do that," he said. "I don't know if we'll do any traveling or not. That remains to be seen."
Graves expressed his gratitude to his fellow truck drivers who voted for his truck in the Pride & Polish competition. "It's totally humbling," he said. "It's humbling to know that many people would take an interest in it." He also hopes that interest helps bring drivers to his new chapel once he's set up with the Mack at the Love's in Cortez.
[Related: Pride & Polish: The seven standout rigs]