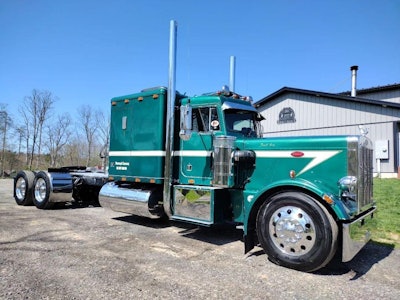 This extended-hood 1981 Peterbilt 359, owned by Durand Carson, came from the long-closed Consolidated Peterbilt dealership in Chicopee, Massachusetts. It featured the 66-inch Double Eagle bunk from new. The rig is powered by a KTA-600 Cummins with an 18-speed. Carson recently had a dyno test done on the rig, and it's putting out 817 horsepower and 2,300 ft.-lbs. of torque. The low-mileage (for its age) Pete has 750,000 original miles, which is "going up every day," Cason said, as he's using the rig to pull a stainless spread-axle reefer. Carson said he gets just 5 miles per gallon with the rig, but he's "happy with that. There's a price to pay for having a cool ride."
[Related: 'Workhorse' 1994 Pete 379 turned a bad day into blessing for one-truck carrier]
Click here to see more photos of reader uploads or to submit your own.
For custom-equipment features delivered to your email inbox, subscribe to Overdrive's weekly Custom Rigs newsletter via this link.