Trucking news and briefs for Thursday, Jan. 14, 2021:
FMCSA proposes pilot program to study safety effects of 6/4, 5/5 sleeper berth splits
The Federal Motor Carrier Safety Administration announced Thursday it will propose a new pilot program for truck drivers to evaluate adding a 6/4 and 5/5 sleeper-berth split to the hours of service regulations.
During the proposed pilot program, drivers would have the option to split their 10-hour off-duty sleeper berth time into two periods, provided that the two periods total at least 10 hours. Drivers participating in the proposed pilot would be expected to split their sleeper berth time into two periods so that neither period is less than four hours.
FMCSA says that it received many comments on its hours of service rulemaking that went into effect in September asking for more flexibility for sleeper splits beyond the 7/3- and 8/2-hour splits currently allowed.
In its notice of proposed rulemaking for the recent HOS changes, FMCSA says it asked for data on the 6/4 and 5/5 splits, but none was received. This proposed pilot would be used to collect the additional data to determine if the additional splits should be added to the HOS regulations.
"FMCSA continues to explore ways to provide flexibility for drivers, while maintaining safety on our roadways," said FMCSA Deputy Administrator Wiley Deck. "This proposed pilot program will provide needed data and feedback for the agency to use now and in the future. Gathering more data on split-sleeper flexibility will benefit all CMV stakeholders. We encourage everyone to review this proposal and provide their public comments."
FMCSA says it would look to include truck drivers from small, medium and large carriers, as well as team drivers and owner-operators, to participate in the pilot. The agency hopes to have between 200 and 400 drivers participate. The program would collect driver identification details and data on sleep, safety-critical events, subjective sleepiness ratings and behavioral alertness throughout driver participation in the study, FMCSA adds.
The proposed criteria for drivers to participate includes among other things being employed by an approved carrier or certified as an owner-operator. Participants would also agree to study procedures, including the use of video-based on-board monitoring systems and the use of actigraphs, which are worn like a watch to measure activity through light and movement to quantify and access sleep/wake patterns of the driver.
FMCSA's proposal will be published in the Federal Register in the coming days, at which point the public will be invited to comment on the proposal for 60 days. Overdrive will publish a link to the comment period when the proposal is published.
FMCSA adjusts fines for regs violations
The U.S. DOT this week published its annual rulemaking increasing fines for violations of federal trucking regulations for inflation, which also implemented the authority to assess fines for violations of the Federal Motor Carrier Safety Administration's Drug and Alcohol Clearinghouse.
DOT is required by Federal Civil Penalties Inflation Adjustment Act Improvements Act of 2015 to adjust fine amounts each year based on inflation.
Under the 2012 MAP-21 Act, FMCSA was required to assess civil penalties for violations concerning its Drug and Alcohol Clearinghouse. With the clearinghouse taking effect in 2020, the agency revised its penalty schedule to include fines for an employer, employee, medical review officer or service agent who violates the regulations implementing the Drug and Alcohol Clearinghouse at 49 CFR part 382, subpart G. Those violations now fall under Appendix B (b) in 49 CFR Part 386 for CDL violations and Appendix B (b)(2) in 49 CFR Part 386 for employer violations pertaining to knowingly allowing or authorizing employee violations of out-of-service orders. The minimum fine for those violations after this week's increase is now $5,833.
A final rule that published in the Federal Register Monday, Jan. 11, made the new fine amounts effective immediately. The 2015 Act required FMCSA and other DOT agencies to issue an initial "catch-up" adjustment, followed by annual adjustments for inflation.
The DOT, in order to find the 2020 adjustment amount, had to multiply the penalty amount by the percentage change between the October 2019 Consumer Price Index for All Urban Consumers (CPI-U) and the October 2018 CPI-U, which for 2020 was 1.01764. Given this multiplier, all of the fine amounts increased, as seen below: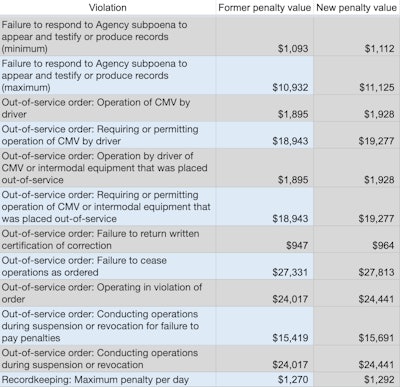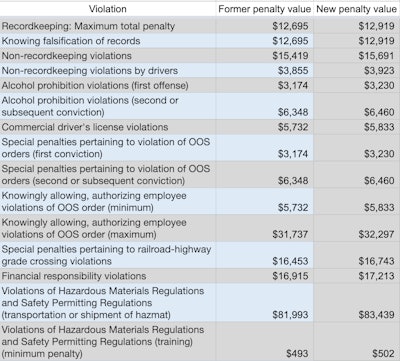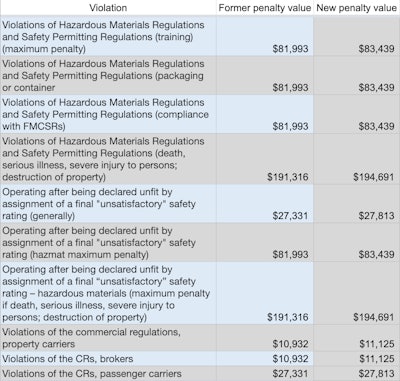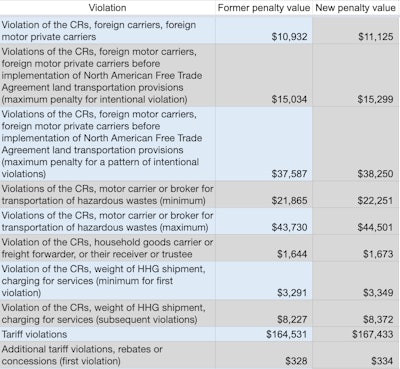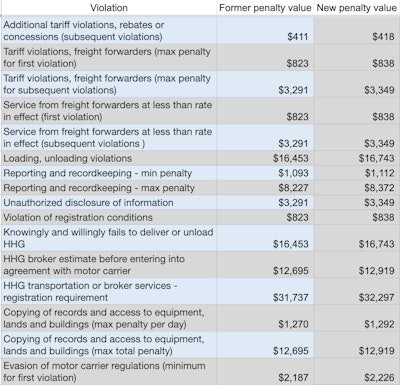 Be prepared for travel delays around D.C. next week for presidential inauguration
If you're headed to or through Washington, D.C., and nearby areas in the next week or so, expect possible delays, street closures, detours and a greatly increased security presence, including some 15,000 National Guard troops, ahead of Inauguration Day on Wednesday, Jan. 20.
Authorities have already started closing some streets, and more will be closed as next week's presidential inauguration ceremony nears. The event will be held on the West Lawn of the U.S. Capitol. Aside from the swearing-in, many of the traditional events associated with the inaugural have been canceled or moved online because of the COVID-19 coronavirus pandemic and the recent violence at the Capitol.
Crews began installing barriers Wednesday, potentially impacting residents, anyone who parks a vehicle downtown, businesses expecting deliveries, and those making deliveries.
Laura MacNeil, Freight & Urban Delivery Planner for the D.C. Department of Transportation, shared details about inauguration-related road closures and restrictions in effect in Downtown DC.
A perimeter around the White House includes:
K Street NW
14th Street NW
Constitution Avenue NW
19th Street NW
Already in effect as of Thursday morning:
Authorities closed streets and restricted parking and movement in this zone.
All parking garages and loading docks in this White House zone were restricted.
Any vehicle remaining in any parking garage or loading dock within that zone after 8 a.m. on Thursday will be stuck there until inauguration concludes, authorities say.
These restrictions apply to residential and commercial buildings.
Business deliveries must receive special screening at an off-site facility.