Trucking news and briefs for Tuesday, June 15, 2021:
Automatic emergency braking, Clearinghouse revisions among near-term DOT priorities
Automatic emergency braking, Drug and Alcohol Clearinghouse revisions, a revision to the vision standard for drivers and more are among a bevy of rules the U.S. Department of Transportation plans to work on over the next year and beyond.
In the DOT's portion of the Biden administration's Unified Agenda, the department listed the rules it views as a priority in the near future. The Federal Motor Carrier Safety Administration has seven rules listed in the proposed rule stage and 12 rules listed in the final rule stage. The National Highway Traffic Safety Administration also has three rules in the works that affect commercial vehicles.
Most notable among FMCSA's list of rules is a proposed rule that would revise the Drug and Alcohol Clearinghouse, which went into effect at the beginning of 2020. According to the abstract listed with the rule, the proposal would "streamline and improve error-correction procedures, queries and consent requirements." As of right now, the notice of proposed rulemaking is expected in February 2022.
FMCSA is also looking at finalizing a rule that would revise the vision standard for drivers. The agency published a notice of proposed rulemaking in January 2021, which proposed to allow drivers who cannot meet either the current distant visual acuity or field of vision standard, or both, in one eye to be physically qualified to operate a commercial vehicle. A final rule is expected to be published in February 2022.
From NHTSA, a proposed rulemaking that would require automatic emergency braking to become standard on heavy trucks is expected to be published in April 2022. If the current version of the House of Representatives' infrastructure bill, the INVEST in America Act, were to come law, the move to standardizing and requiring AEB technology would be required of the agency.
NHTSA agency also plans to propose fuel efficiency and greenhouse gas standards for medium- and heavy-duty trucks next year and to finalize a rule for upgrading rear impact guard requirements for trailers.
Other notable rules in the works from FMCSA include:
[Related: Liability insurance hike left in House's highway funding bill]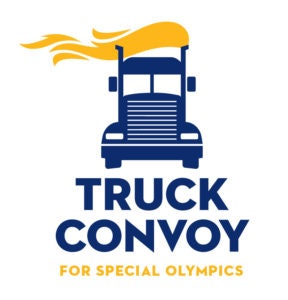 South Carolina convoy for Special Olympics set for August 28
The South Carolina edition of the Truck Convoy for Special Olympics series will begin early in the day August 28 at the State Farmers Market.
All of the funds raised go to the South Carolina Law Enforcement Torch Run for Special Olympics. The Truck Convoy is just one of the many fundraisers SCLETR does throughout the year to raise money for and awareness of Special Olympics South Carolina.
The convoy rolls out at 10:30 a.m., followed by lunch with a live DJ, various games, and antique truck show and silent auctions. Find registration forms via this link.
"We would encourage you to preregister," said event organizer Tim Cooley, "as it gives us a better idea of how many to prepare for, but we welcome registration right up until the time of rolling out."
For participants registering by mail, simply print the last two pages of the registration packet, fill them out and remit with donation. Organizers have also set up Paypal and Venmo accounts for those who wish to pay online.
The last, 2019 edition of the convoy in South Carolina boasted around 200 trucks and "raised about $47,000 for these incredible children and athletes," Cooley added. He was hopeful for a record-breaking year in 2021.
Bestpass adds Alabama tolls to network
Toll management system Bestpass is expanding its nationwide toll coverage network to Alabama through a partnership with American Roads.
Bestpass will offer its customers Alabama coverage on the Tuscaloosa Bypass, Foley Beach Express, Emerald Mountain Express and Montgomery Express through its 6C protocol toll transponders. All four bridges are owned and operated by American Roads.
In September 2019, Bestpass announced that it had reached an agreement to register its 6C transponders with the Transportation Corridor Agencies for use by commercial fleets on The Toll Roads in Orange County, California. Bestpass offers a variety of national and regional transponder and coverage options for its commercial fleet customers, which operate hundreds of thousands of vehicles across North America.
"The emerging 6C protocol allowed us to provide our customers with toll interoperability throughout California, and this partnership with American Roads allows us to expand our 6C coverage to Alabama," said John Andrews, president and chief strategy officer for Bestpass. "We work with all toll protocols to ensure that our customers have the best possible toll management program, including our Complete Pass Scout device, which offers coast-to-coast coverage."