Trucking news and briefs for Tuesday, Aug. 3, 2021:
Brakes, hours top Roadcheck out-of-service violations
Approximately 83.5% of more than 40,000 trucks inspected during the Commercial Vehicle Safety Alliance's three-day International Roadcheck inspection blitz had no out-of-service violations, according to CVSA.
Inspectors did, however, remove 6,710 commercial vehicles and 2,080 drivers from roadways – a 16.5% vehicle and 5.3% driver out-of-service rate – over the three-day period from May 4-6.
Inspectors primarily conducted the North American Standard Level I Inspection, a 37-step inspection process that involves thorough inspection of the vehicle (including underneath the vehicle) and the driver. Inspectors performed 23,135 Level I Inspections and removed 5,048 vehicles (21.8%) and 1,200 (5.2%) drivers from roadways.
In Canada and the U.S., inspectors conducted 9,410 Level II Inspections and placed 1,593 (16.9%) vehicles and 549 drivers (5.8%) out of service. They also conducted 6,836 Level III Inspections and placed 331 drivers out of service for a 4.8% driver out-of-service rate.
Each year, CVSA highlights a category of violations during International Roadcheck to bring awareness to certain aspects of a routine roadside inspection. This year, inspectors captured data on two categories – hours of service and lighting.
There were 1,367 out-of-service lighting violations, accounting for 14.1% of all vehicle out-of-service violations. It was the third most-cited violation, after brake systems and tires. Out-of-service lighting device violations include headlamps, tail lamps, stop lamps, turn signals and lamps on projecting loads.
Of the 9,691 out-of-service vehicle violations issued, the top five violations were for:
Brake systems – 2,564 (26.5%)
Tires – 1,804 (18.6%)
Lights – 1,367 (14.1%)
Brake adjustment – 1,203 (12.4%)
Cargo securement – 1,192 (12.3%)
The second focus area, hours of service, was the most cited driver out-of-service violation, accounting for 41.5% of all driver out-of-service violations, or 1,203 violations.
[Related: What's going on in the hours of service 'black hole' out West]
Of the 2,898 out-of-service driver violations issued, the top five violations were for:
Hours of service – 1,203 (41.5%)
Wrong class license – 565 (19.5)
Other – 482 (16.6%)
False logs – 427 (14.7%)
Suspended license – 132 (4.6%)
Examples of "Other" driver violations include operating without the required operating authority, expired or no medical certificate, operating a commercial motor vehicle while ill or fatigued, driving while prohibited in the Drug and Alcohol Clearinghouse and more.
Last year in the U.S., there were more than 32,000 "failure to use a seatbelt while operating a commercial motor vehicle" violations, according to the Federal Motor Carrier Safety Administration's Motor Carrier Management Information System. It was the fourth most-cited driver violation in 2020. During this year's Roadcheck, inspectors checked safety belt usage during inspections and issued 773 seatbelt violations. Four were issued in Mexico, 305 in Canada and 464 in the U.S.
[Related: The 14-state speed trap]
Fuel prices at highest point since October 2018
Diesel prices across the United States are at the highest national average since October 2018 following a 2.5-cent increase during the week ending Aug. 2, according to the Department of Energy's weekly report.
The U.S.' average price for a gallon of on-highway diesel is now $3.367. The last time prices were higher was the week ending Oct. 22, 2018, when fuel costs were $3.38 nationwide.
The most significant increase during the last week was seen in California, where prices jumped 6.7 cents. California is also home to the nation's most expensive diesel at $4.271 per gallon, followed by the Rocky Mountain region at $3.666 per gallon.
The cheapest fuel can be found in the Gulf Coast region at $3.097 per gallon, followed by the Lower Atlantic region at $3.238 per gallon.
Prices in other regions, according to DOE, are:
New England – $3.255
Central Atlantic – $3.493
Midwest – $3.278
West Coast less California – 3.661
ProMiles' numbers during the same week saw fuel prices increase by seven-tenths of a cent, bringing its national average to $3.282 per gallon.
According to ProMiles' Fuel Surcharge Index, the most expensive diesel can be found in California at $4.173, and the cheapest can be found in the Gulf Coast region at $3.062 per gallon.
I-70 in Colorado closed due to mudslide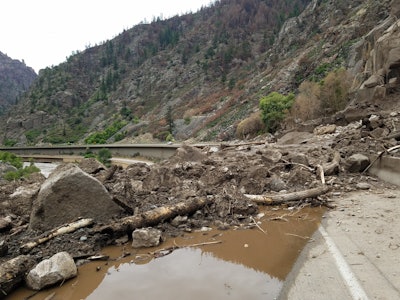 Part of Interstate 70 through Colorado at Glenwood Canyon remains closed Tuesday following mudslides that covered the highway with debris this past weekend.
The Colorado Department of Transportation said heavy rain that began Thursday at the Grizzly Creek burn scar and continued Friday and Saturday created mudslides and caused debris to cover the highway. CDOT operations and engineers said there was also damage to a viaduct in the 12.5-mil-long canyon in western Colorado.
Flash flooding began at about 4:30 p.m. Friday, stranding more than 100 motorists on the highway. Heavy rains continued and hampered repair efforts. In an update Saturday, CDOT said crews had already removed 135 truckloads of mud and rocks.
CDOT suggests truckers use Interstate 80 through Wyoming to avoid the closure.
Westbound motorists from the Denver metro area should exit I-70 at Exit 205 (Silverthorne) and travel north on Colorado Highway 9 towards Kremmling. Travelers will continue west on US Highway 40 and then south on CO 13 to complete the alternate route and return to westbound I-70 at Rifle (Exit 90).
Eastbound travelers can detour using the same route in reverse.