Trucking news and briefs for Tuesday, Sept. 14, 2021:
Trucking orgs blast Biden's vax mandate
American Trucking Associations President and CEO Chris Spear pushed back on President Joe Biden's plan to require companies with more than 100 employees to mandate COVID vaccinations or require workers to undergo weekly testing.
"The first rule of any public health policy should be 'do no harm,'" he said. "Unfortunately, these latest mandates and the unintended consequences they'll create fall short of that standard."
Biden has charged Occupational Safety and Health Administration (OSHA) to develop the rule, which is expected to impact more than 80 million unvaccinated workers in private sector businesses with 100 employees or more. The agency will issue an Emergency Temporary Standard to implement it. Employers, per Biden's rule, will be required to offer employees paid time off to facilitate their vaccination and recovery from any side effects.
The Owner-Operator Independent Drivers Association said it believes "the decision regarding vaccinations to be a personal choice for individuals and likewise for companies." The organization, however, noted that it's currently unknown how the mandate will affect trucking, since most of the industry is made up of fleets with fewer than 100 employees. OOIDA added that most of its members, being owner-operators, are not considered employees.
While ATA, its members and drivers remain committed to delivering life-saving COVID vaccines, Spear said, "these proposed requirements – however well-intentioned – threaten to cause further disruptions throughout the supply chain, impeding our nation's COVID response efforts and putting the brakes on any economic revival."
In announcing the rule last week, Biden cited Tyson Foods, which employs more than 1,300 truck drivers, as a workforce that's already instituted a vaccine mandate.
"If these mandates are designed to protect Americans, then why the discriminatory 100-employee threshold, picking winners and losers for both employees and employers," Spear asked. "As this proposal moves forward, ATA is examining all options and will choose a path that protects our industry so that it can continue delivering on behalf of our country."
The new rule still has to pass through the Federal Register, so its effective date is unclear, and governors from various states – including Arkansas, Wyoming and Georgia – are already lining up in opposition.
[Related: How Biden's vaccine mandate could impact owner-ops, independents]
PrePass safety Alerts now nationwide
PrePass Safety Alliance recently upgraded the PrePass safety Alerts system to include critical traffic warnings across all 48 contiguous states.
Truck drivers receive PrePass Alerts as they approach known high-risk areas on the road, helping them to stay alert and reduce speed when applicable. PrePass Safety Alliance works in collaboration with the trucking industry and enforcement agencies to select Alert locations that best reflect true areas of concern.
With audio and visual notifications, PrePass Alerts offer up to the minute in-cab safety notification of work zones, traffic incidents and crashes, dangerous slowdowns, and traffic congestion. These Alerts are in addition to the original warnings for truck parking, steep grades, gusty winds, no commercial truck roads, rest areas and brake check chain-up areas.
Georgia-based driver named Highway Angel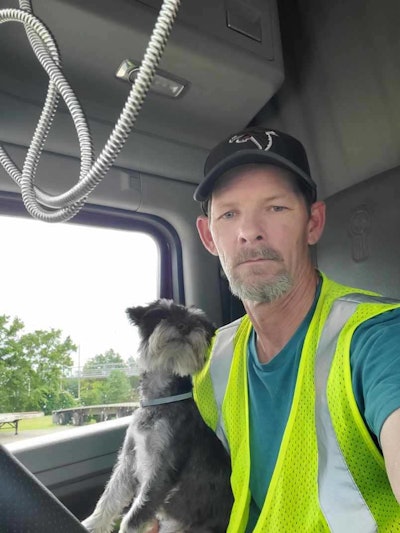 Devey South, a truck driver from Carrollton, Georgia, has been named a Highway Angel by the Truckload Carriers Association for stopping to rescue a father and son after another vehicle side-swiped their vehicle, causing it to roll several times.
On June 9, South was westbound on I-78 near Saucon, Pennsylvania, in the middle of the afternoon with heavy traffic. He was in the righthand lane when a car and SUV came up on his left.
"The car started to fishtail, swerved, and then side-swiped the SUV," South said. "It caused the SUV to spin and then flip four times across the highway."
The SUV landed on the driver's side and slammed against the concrete barrier. South applied his air brakes and pulled over. He then jumped out and ran across three to four lanes of traffic.
"The back window was busted out," he said. "I stuck my head in, but there was smoke or dust, and I couldn't see anything."
But then he saw a boy, about 12 years old, lift his head up. "He was cut and had blood all over his arms." South told the boy to hang on as he climbed on top of the SUV. "The driver's door was smashed in. It took me about 10 minutes to pry the door open."
The driver, the boy's father, was conscious and still in his seat belt, but he was crying and in pain and didn't speak English.
South was able to pull the boy out first. He then used his Swiss Army knife to cut the driver's seat belt. At the time, South said he didn't know if he was dealing with smoke or dust from the air bags, so he and another motorist who had stopped made the decision to pull the driver out and get him on the ground.
As they waited for first responders, the driver of the other vehicle that side-swiped the SUV got out.
"She was on her cell phone and looked like she was fine," South said. "She kept saying she was sorry."
However, South wasn't able to find out what had happened. He waited with the injured driver and his son until first responders arrived a short time later and took over.
For his willingness to assist, TCA has South with a certificate, patch, lapel pin and truck decals. His employer, JLE Industries, has also received a certificate acknowledging their driver as a Highway Angel.
[Related: Trucker named Highway Angel for pulling driver from burning minivan]