Trucking news and briefs for Tuesday, Nov. 23, 2021:
Livestock haulers get more HOS relief in infrastructure law
The bipartisan infrastructure package passed by the U.S. House of Representatives and signed into law by President Joe Biden earlier this month includes a provision that gives livestock and insect haulers additional hours of service relief under the agricultural hours exemption.
The law amends a provision in the Motor Carrier Safety Improvement Act of 1999 to exempt livestock and insect haulers from the hours-of-service rules when they are within 150 air miles not only of the source but also their final destination.
The law already exempted livestock haulers from HOS rules while operating within a 150 air-mile radius from the source of the shipment.
Now, livestock and insect haulers will only have to abide by hours limitations if they exit the 150 air-mile radius of both the pickup location and the destination.
Trucking advocacy group Trucker Nation says 150 air miles equates to about 172 land miles, or a rough three hours' driving, expanding livestock and insect haulers' potential single-trip hours-exempt length to around six hours one-way. Given recent-history changes to guidance around the ag exemption, such haulers would likely be exempt on a straight return back to the source as well, given they stay within one radius or another for the entirety of the turn.
Additionally, such a hauler would only be required to use an ELD if he or she had logbook-necessary trips for more than 8 days in any rolling 30-day period.
To operate under the exception, haulers must be operating during planting and harvesting season as defined by the states they're operating in. In many states, however, such season is defined as Jan. 1-Dec. 31.
Trucker Nation's Andrea Marks emphasized that she had been assured by FMCSA that since this was a statutory exemption passed by Congress, livestock/insect haulers could use the new flexibilities now. At once, though, she noted that discretionary use by haulers at this point could be subject to inconsistent enforcement at roadside, given the time it takes for official guidance to flow from FMCSA to the states and enforcement personnel.
[Related: FMCSA: Ag-exemption, personal conveyance guidance change expected before June end]
15 Republican governors call on Biden to suspend certain trucking regs
Tennessee Gov. Bill Lee, who is also Chairman of the Republican Governors Public Policy Committee, was joined Monday by 14 other Republican governors in launching "Operation Open Road," which calls on the Biden Administration to address the supply chain crisis by suspending burdensome regulations. The governors also pledged to take action at the state level to help the trucking industry move freight more efficiently.
The governors committed to, where allowable, modifying size and weight restrictions, adjusting hours of service constraints, deregulating education and occupational licensure barriers to get more truck drivers on the road, among other things.
The group also called on Biden to "suspend outdated federal regulations that unnecessarily require commercial driver's license holders to be 21 years old and lower the age to 18 years old so that well-trained, working adults can work across state borders."
[Related: Drive SAFE Act becomes law: Here's what truckers need to know]
The governors also asked Biden to suspend the COVID-19 vaccine requirement for private employers; review and revise policies that deter use or domestic manufacturing of essential transportation equipment, including intermodal containers, chassis, and automobiles, trucks, and tractor trailers; and to stop spending that will raise taxes and grow inflation.
Tennessee Gov. Lee was joined in launching Operation Open Road by: Governors Doug Ducey of Arizona, Ron DeSantis of Florida, Brian Kemp of Georgia, Brad Little of Idaho, Kim Reynolds of Iowa, Larry Hogan of Maryland, Mike Parson of Missouri, Greg Gianforte of Montana, Pete Ricketts of Nebraska, Doug Burgum of North Dakota, Mike DeWine of Ohio, Kevin Stitt of Oklahoma, Henry McMaster of South Carolina, and Greg Abbott of Texas.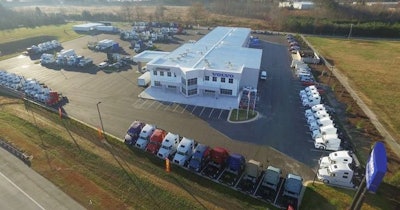 Love's celebrates truckers with giveaway, charity donation
Love's Travel stops is celebrating truck drivers and the holiday season with its second annual 12 Days of Christmas giveaway. Customers can enter to win prizes daily on the Love's Facebook page beginning Friday, Nov. 26.
For each entry, Love's and its vendor partners will donate $1 to the St. Christopher Truckers Relief Fund, up to $25,000.
From Nov. 26 to Dec. 7, drivers can enter daily on Love's Facebook page for chances to win items like a Sirius XM Tour Edition radio, Garmin GPS, refurbished iPad Mini 2 and more. On Dec. 7, the grand prize of 100,000 (equivalent to $1,000) My Love Rewards points will be given away to one driver.
"We're excited to give away some of our customers' favorite items for Love's second annual 12 Days of Christmas," said Mark Romig, director of merchandising for Love's. "We've kicked the campaign up a notch this year with the donation to SCF, and Love's is proud to partner with vendors to further support the life-changing work the foundation does."