Trucking news and briefs for Monday, Feb. 7, 2022:
Drug violations up among CDL drivers in 2021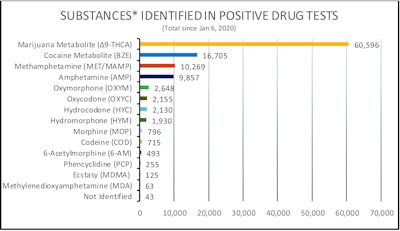 Violations reported to the Federal Motor Carrier Safety Administration's Drug and Alcohol Clearinghouse were up 10.2% in 2021 compared to 2020, according to FMCSA's December 2021 monthly report.
The second year of the Clearinghouse saw 58,215 drug violations in the system, compared to 52,810 in the program's first year in effect. The Clearinghouse took effect on Jan. 6, 2020. The majority of violations stemmed from positive drug tests (49,013 in 2021), while 8,152 violations were drug test refusals. The remaining 1,050 violations reported in 2021 were actual knowledge violations reported by employers.
Positive marijuana tests put more drivers in the Clearinghouse than any other substance, FMCSA reported, with 31,085 positive drug tests in 2021 – a 5.3% increase over reported marijuana violations in 2020. Cocaine was the second-highest positive substance among drivers, with 8,765 positive tests – a 10.4% increase over the previous year.
Methamphetamine was responsible for the third-most positive tests in the Clearinghouse with 5,082 violations, a 2% decrease from 2020.
Apart from marijuana and cocaine, methylenedioxyam-phetamine (MDA) was the only other drug to see an increase in violations in 2021 over 2020.
Alcohol violations reported to the Clearinghouse also increased in 2021 over 2020, with 1,422 violations in 2021, up from 1,122 in 2020.
Of the 104,840 drivers who have at least one reported violation in the Clearinghouse since it took effect in January 2020, there are still 81,052 drivers in prohibited status who have not completed the return-to-duty process. Of those drivers in prohibited status as of Jan. 1, 2022, only 13,050 have completed the requirements to be eligible for return-to-duty testing.
[Related: 'Fun' with safety/compliance -- low-hanging fruit to avoid FMCSA's drug/alcohol Clearinghouse violations]
FMCSA's Training Provider Registry for new CDLs, hazmat endorsements goes live
With FMCSA's Entry-Level Driver Training rule officially taking effect Monday, Feb. 7, the agency's Training Provider Registry (TPR) has gone live in a searchable format.
New commercial driver's license applicants are now required to use a trainer listed in the registry to complete the required training to obtain a CDL. Training providers are required to register and self-certify with the registry to confirm that they meet all FMCSA requirements laid out in the ELDT rule.
CDL applicants do not need to register for the TPR. They will access the TPR to search for a provider and contact any they are interested in. Once a provider is chosen and the driver completes the required assessments, the provider will electronically submit the driver's certification information to the registry.
Finally, states will use information in the TPR to verify that a CDL applicant has completed the required training before administering a CDL A or B skills test for the first time, a knowledge test for obtaining a hazmat (H) endorsement for the first time, or the skills test for the passenger (P) or school bus (S) endorsement for the first time. Drivers who obtained a Commercial Learner's Permit prior to February 7 are not be required to complete the new training to take the skills test.
[Related: 'Entry Level' driver training is here for new truckers]
Two Bay & Bay drivers named Highway Angels
The Truckload Carriers Association has named Tony Doughty, from Greenville, Texas, and Thomas Glass, from Maryville, Tennessee, Highway Angels for stopping when they came upon a stalled vehicle with smoke coming from underneath the hood.
It was October 23 and Doughty and his wife, Alison, who rides with him, were on I-80 in Iowa.
"It just so happened that we were running with a buddy of mine, Thomas Glass, because we were both headed to Salt Lake City to deliver," Doughty said. "It was about 7:30 a.m. when we rounded a corner and saw a SUV sitting on the side of the road, smoke pouring from underneath the hood."
He feared it was about to catch fire. He and Glass were on the phone at the time.
"I told him I was gonna stop because this car was about to catch fire," Doughty said. "He was right behind me and said he would stop, too. I told him to grab his fire extinguisher."
The two men quickly pulled over and rushed to the smoking vehicle. The driver was a man in his 80s.
"He told us he'd heard a pop," said Doughty, "and all a sudden there was a lot of smoke and he couldn't see anything and had to pull over. We had our fire extinguishers ready, but it was just an antifreeze line that had exploded and caused steam to go over the entire engine."
Meanwhile, Alison called the police to notify them of the situation.
"We pulled the pins on our extinguishers and were waiting for it to ignite, but there was just one small flame so we gave it a squirt and then stood by to let it cool down and make sure everything was okay," Doughty added. "It never got hot enough to catch the belts on fire."
Once the fire department arrived, the Doughtys and Glass got back on the road.
TCA has presented both men with a certificate, patches, lapel pin, and truck decals. Bay & Bay has also received a letter acknowledging its drivers as Highway Angels.