Trucking news and briefs for Monday, April 4, 2022:
FMCSA investigates uptick in HHG complaints
The Federal Motor Carrier Safety Administration reported April 1 that it conducted a special operation in February to investigate a significant increase in complaints regarding household goods movers.
The agency said between 2020 and 2021, complaints to FMCSA's National Consumer Complaint Database nearly doubled from 4,340 to 8,295.
During its investigation, the agency looked into the top 100 carriers identified in the NCCDB. The operation took place between Feb. 7-28 in 16 states and resulted in 586 consumer complaints being closed, and enforcement action taken on 63% of the carriers investigated, FMCSA added.
The NCCDB is also the venue through which coercion complaints against carriers/others and/or broker/shipper-related complaints can be made. FMCSA didn't specify the extent to which the uptick in complaints was a function of household-goods-related complaints. The agency recently updated the NCCDB to include a category for broker-related complaints specific to property haulers, and OOIDA criticized the database as inadequate from operators' perspective.
[Related: How to blow the whistle on problem shippers/receivers when delays force violations]
New York encouraging military vets to obtain CDLs
The New York State Department of Motor Vehicles (DMV) and the Division of Veterans' Services is encouraging active military members and veterans to apply for a waiver of the commercial driver license (CDL) skills road test when they apply for a CDL.
Those who have military experience driving commercial vehicles may be eligible to skip the CDL road test. Since 2012 when the waiver became available, it has helped more than 2,000 active duty military and veterans obtain their CDL, the state said.
"DMV is proud of the hundreds of thousands of New Yorkers who have served, and it is our duty to help them transition back into the civilian workforce," said DMV Commissioner Mark J.F. Schroeder. "This waiver allows them to put their valuable skills and experience to work while also helping to address the critical shortage of commercial drivers."
To be eligible, applicants must have a valid NYS or out-of-state driver license, meet all requirements for a NYS CDL and have experience operating a military commercial motor vehicle. The waiver must be applied for at a DMV office. Applicants must also pass all applicable written tests.
Those who meet the requirements will be issued a CDL after passing the written exams. The license class, endorsements and restrictions will depend upon the type of commercial motor vehicle the driver operated in the military.
Recently, New York Gov. Kathy Hochul announced a variety of state actions to increase the number of truck and bus drivers, including a plan to allow qualified third parties to offer the road tests, which the DMV said would create more testing locations statewide and expand capacity at existing state-run sites, reducing the time it takes to get qualified CDL drivers on the road.
[Related: Inside the veterans-support mission of small fleet MSR Transport]
Two drivers named Highway Angels for helping injured passengers after witnessing car crash
The Truckload Carriers Association has named Melton Truck Lines truck drivers Michael Maines and Daniel Worm Highway Angels for using their medical backgrounds to assist seriously-injured passengers during a car crash last September in Louisville, Kentucky.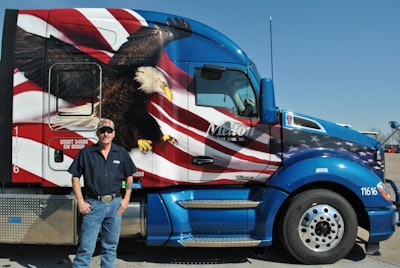 On September 24, 2021, Maines and Worm each were driving their trucks, both having just departed a truck stop heading toward Louisville. At one point, road construction slowed down traffic, and Maines witnessed a white van swerve out of the way from hitting a semi-truck, causing a Jeep to run off the road and flip over onto the guard rails. Behind the van was a car, which proceeded to crash full speed into the truck. An elementary school-age girl was ejected from the passenger window in the crash.
Maines stopped his truck and tried to help.
"I was in the military, and so I knew how to do triage," said Maines, referring to his eight years in the Air Force. "I ran out and checked everybody real quick — the young girl that was laying on the street. She had a major head injury."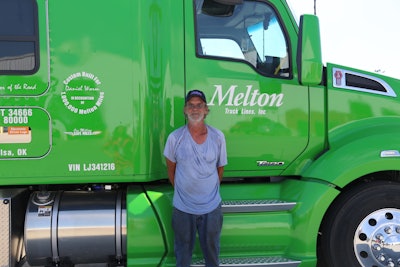 Another passerby pulled a young boy, the girl's brother, out of the back of the car. The boy was conscious and talking. The vehicle's driver, the father of the two children, gained consciousness, Maines added, and was eventually pulled from the wreckage with the jaws of life, brought by first responders.
Worm, who was behind Maines in traffic, also stopped to assist. With 21 years of experience with a Michigan fire department and EMS team, he possessed extensive training on how to respond during a medical emergency. Worm quickly focused on the seriously injured little girl lying on the road.
"I went to work and started treating that girl," he said. "She was in critical condition — I stayed right with her until the EMS got there."
Meanwhile, Maines was communicating with law enforcement at the scene. Both truck drivers stayed at the accident site assisting police and paramedics.
"You come across a scene like that, you can't just walk away from that," Maines said. "You can't walk away from people when they're in situations like that."
Worm agreed, saying he stopped because "that's what I was trained to do."
TCA presented both drivers with certificates, patches, lapel pins and truck decals for their willingness to stop and help. Melton Truck Lines also received a letter acknowledging the two men as Highway Angels.