Trucking news and briefs for Thursday, Oct. 27, 2022:
FMCSA modifies, extends Hurricane Ian-related HOS waiver
The Federal Motor Carrier Safety Administration has modified and extended the hours-of-service waiver intended to help recovery efforts in Florida and South Carolina in the aftermath of Hurricane Ian.
On Sept. 28, due to heavy rain, high winds, flooding, and storm surge resulting from Hurricane Ian, FMCSA issued a Regional Declaration of Emergency for eight affected states, which expires on Oct. 28.
FMCSA said that because emergency conditions are still ongoing in Florida and South Carolina, the agency is extending the emergency declaration through Nov. 28, or until the end of the emergency, whichever is sooner.
Under the waiver, drivers providing direct assistance supporting emergency relief efforts related to Hurricane Ian are exempt from Part 395.3 -- maximum driving time -- in the hours-of-service regulations.
FMCSA clarified that "direct assistance does not include transportation related to long-term rehabilitation of damaged physical infrastructure or routine commercial deliveries, including mixed loads with a nominal quantity of qualifying emergency relief added to obtain the benefits of this emergency declaration, after the initial threat to life and property has passed."
[Related: Owner-ops, groups: COVID HOS waiver should open door for more flexibility]
Load board launches expedited reefer network
Expedite van load board Expedite All has announced the launch of its Reefer Van Network, a nationwide transportation network that gives shippers on-demand access to refrigerated small vehicles.
Reefer Van Network gives more visibility to small-vehicle expediters with refrigerated sprinter vans, box trucks and straight trucks in the U.S., all through a single online platform. Reefer Van Network will operate as a division of Expedite All.
"We created Expedite All because we recognized that shippers had a need for dedicated and expedite small vehicle transportation that was not being met in the fragmented expedite marketplace," said Alex Winston, president of Expedite All. "With Reefer Van Network, our goal is to bring the same spirit of innovation and convenience to the refrigerated space."
Reefer Van Network specializes in refrigerated transportation and works exclusively with refrigerated vehicles. All vehicles must be less than 10 years old and meet stringent temperature control and monitoring requirements to be on the platform. Every vehicle available on Reefer Van Network undergoes periodic temperature control experiments to ensure that refrigeration capabilities are never in doubt.
Additionally, each vehicle in the network is required to install a temperature data logger provided by Reefer Van Network to ensure the reefer unit keeps loads at the appropriate temperature.
Reefer Van Network vehicles are most commonly used to transport pharmaceutical products, non-hazmat chemicals and adhesives, ingredients and perishables including flowers and foods -- meat, dairy products, fruits, vegetables, and juices.
[Related: Small Fleet Champ CAP Trucking refocuses on asset business, growing success in north-south LTL reefer]
Custom-wrapped T680 to haul U.S. Capitol Christmas Tree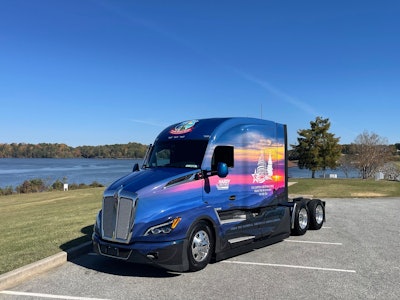 A Kenworth T680 Next Generation adorned with a newly installed special graphics design will soon transport the 2022 U.S. Capitol Christmas Tree from the National Forests in North Carolina to the West Lawn of the U.S. Capitol Building.
This year's carrier, Hardy Brothers Trucking, based in Siloam, North Carolina, is recognized on both doors. The company selected its husband-and-wife driver team of Harold "Ed" Kingdon Jr. and Deborah Z. Kingdon for the honor of transporting the special tree -- a 78-foot Red Spruce scheduled to be harvested Nov. 2 from the Pisgah National Forest in North Carolina.
The Kingdons will drive a T680 Next Gen equipped with a 76-inch mid-roof sleeper and the Paccar Powertrain to a full slate of community celebrations en route to Washington, D.C.
The public community celebrations begin Nov. 5. The official tree lighting ceremony on the West Lawn of the U.S. Capitol building is scheduled for Nov. 30. Smaller companion trees also will be provided to decorate offices inside of the U.S. Capitol building and other sites throughout Washington, D.C., along with handmade ornaments created by North Carolinians.
Below is the 2022 U.S. Capitol Christmas Tree Tour public schedule:
Nov. 5: Western North Carolina Agricultural Center, Fletcher, North Carolina
Nov. 6: Cherokee County Courthouse, Murphy, North Carolina
Nov. 6: Oconaluftee Island Park Event Site, Cherokee, North Carolina
Nov. 7: Pisgah Forest Ranger Station & Visitor Center, Pisgah Forest, North Carolina
Nov. 7: Marion Main Street, Marion, North Carolina
Nov. 8: Avery County Cooperative Extension Center, Newland, North Carolina
Nov. 8: Watauga High School, Boone, North Carolina
Nov. 8: Downtown Newton, Newton, North Carolina
Nov. 9: Veteran's Memorial Park, Mount Airy, North Carolina
Nov. 9: Troy Town Hall, Troy, North Carolina
Nov. 10: North Carolina Zoo, Asheboro, North Carolina
Nov. 11: North Carolina Veteran's Home, Kinston, North Carolina
Nov. 12: Union Point Park, New Bern, North Carolina
Nov. 13: Fort Raleigh National Historic Site, Manteo, North Carolina
Nov. 14: Suffolk Visitors Center, Suffolk, Virginia
Nov. 18: Delivery to West Lawn, U.S. Capitol Building, Washington, D.C.
Nov. 30: Tree Lighting Ceremony, Washington, D.C.