Trucking news and briefs for Thursday, April 27, 2023:
Senate passes resolution to overturn EPA's heavy-duty emissions regs
The U.S. Senate on Wednesday narrowly passed a joint resolution that would overturn regulations introduced in December to tighten NOx emissions limits to a level 80%-plus below the current standard and reduce particulate matter limits by 50% beginning in 2027.
The vote passed 50-49, with Senators mostly holding party lines. Sen. Joe Manchin (D-West Virginia) was the lone Democrat to vote in favor of overturning the EPA's regs. Sen. Dianne Feinstein (D-California) was the only Senator who did not vote, being absent with illness.
Despite the resolution's passage in the Senate, it did not reach the two-thirds majority that would be needed to override a presidential veto. The White House has signaled that President Biden will veto the resolution if it makes it to his desk. A similar measure was introduced in early April in the House of Representatives.
[Related: Trucking groups slam 'challenging' new EPA rule that slashes truck emissions limits]
$2.1M cocaine seized from truck at Texas-Mexico border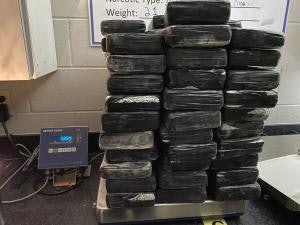 U.S. Customs and Border Protection (CBP) officers at the Del Rio, Texas, Port of Entry earlier this month seized cocaine from a tractor-trailer that totaled more than $2.1 million in street value.
The seizure occurred on the evening of Wednesday, April 12, at the Del Rio International Bridge, when officers assigned to cargo selected a tractor-trailer transporting a shipment of rocks into the United States, for a non-intrusive inspection.
Upon further examination, including canine and non-intrusive inspection systems, CBP officers discovered 63 packages containing a total of 163 pounds of cocaine hidden in the floor of the flatbed trailer.
CBP seized the narcotics, and the case was turned over to Homeland Security Investigations special agents for further investigation.
[Related: Cali/Mexico border seizure: $21.1M worth of Fentanyl in load of green beans]
RoadEx donates to Truckers Final Mile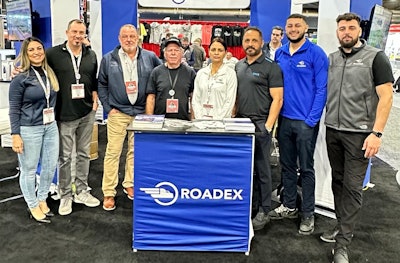 With the help of trucking services provider RoadEx, Truckers Final Mile received a donation of $18,200 at the Mid-America Trucking Show in late March.
RoadEx founder Goldy Dhillon ran a trucking company before starting RoadEx and saw that owner-operators and small fleets needed a "one stop shop" for various services for their businesses. RoadEx started about five years ago and offers factoring, insurance, load booking, financing, a fuel card and more.
RoadEx and Truckers Final Mile began a partnership about two years ago with RoadEx making monthly donations to the non-profit charity that helps get drivers home after a tragedy or loss of life out on the road.
"It's been a good relationship," said Truckers Final Mile founder Robert Palm. "They've been making a monthly donation, then it came to this show (MATS), and they wanted to do something more to bring more awareness to the charity, so they put it out there to raise $5,000."
Of the money raised to benefit Truckers Final Mile, RoadEx donated a $5,000 match. In total, $18,200 was raised and donated to Truckers Final Mile.
"Having an organization like RoadEx come forward and say, 'we're going to support our industry by supporting an organization within the industry that helps the drivers and their families' is awesome for us," Palm said. "Truckers Final Mile is a 501(c)3, and the way we operate is through donations and sponsorships. It's great to have them on board, and we're looking forward to the future and doing more with RoadEx. We can't say thanks enough."
Dhillon added that RoadEx's support for Truckers Final Mile will continue to grow as the company grows in the future.
[Related: Truckers Final Mile enters strategic partnership with ministry TFC Global]
St. Christopher receives $10,000 donation from Trucking Cares Foundation
The St. Christopher Truckers Relief Fund recently received a $10,000 donation from the Trucking Cares Foundation, the charitable organization of the American Trucking Associations.
The SCF helps truck drivers and their families while they recover from injury or illness, as well as support the overall health and wellness of truck drivers.
"The Trucking Cares Foundation is pleased to make this contribution to the St. Christopher Truckers Relief Fund," said John Lynch, Senior Vice President, Federation Relations, ATA. "Their work in aiding drivers and their families is so important, and we are proud help them with their mission."
To date, SCF has provided more than $4.4 million directly to bill holders on behalf of more than 3,669 truck drivers.
"I want to thank the Trucking Cares Foundation for supporting St. Christopher Fund's important work," said SCF Board President Joyce Brenny, founder of and owner of Brenny Transportation and Brenny Specialized, Inc., and member of the American Trucking Associations. "SCF works tirelessly to provide free preventative health and wellness programs to promote a healthier driver community, as well as provide a financial safety net to support drivers while they recover from an injury or illness. This donation from TCF will go a long way toward supporting those efforts."