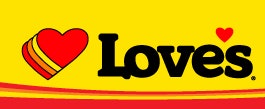 Love's Travel Stops announced Aug. 28 it has opened two new locations: One in Mossy Head, Fla., at Exit 70 on I-10, and one in Fort Stockton, Texas, at Exit 261 off of I-10.
The Mossy Head location has Subway and McDonald's restaurants, 82 truck parking spaces and seven showers.
The Fort Stockton Love's has a Carl's Jr. restaurant, 66 parking spaces and seven showers. Both have gourmet coffee, fresh fruit, gift merchandise and more available 24 hours a day. Professional drivers can also take advantage of the on-site Love's Truck Tire Care centers, RFID cardless fueling technology, CAT scales and other services.