Owner-operator David Michaels, of Baxter, Tennessee, has been selected as one of 10 semi-finalists in the Overdrive-Red Eye Radio Trucker Talent Search competition for 2021. He submitted his original song, "The Storm," which he says has a double meaning.
"I wrote the song about my little dog who has become my service dog," he says. "But when you listen to the song and the words, it's of a child singing about her parents."
Michaels started singing at age 7 and began writing songs in 2004. He says he entered the contest because "I felt I'd be giving back to my trucker family out here."
The 49-year-old owner-operator has been trucking for 31 years and currently hauls van freight over the road for Balkan Xpedited.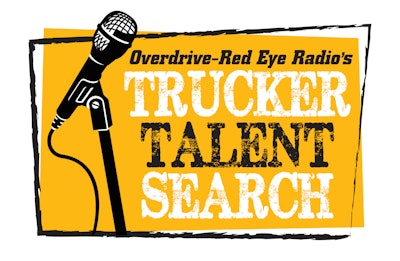 Judges will pick three finalists for the Trucker Talent Search competition, and those three will compete for the top spot by performing another song. Overdrive will air their final competition this summer in an evening streaming event, which will conclude with naming the winner.
That musician will win a full day's recording session at Jay's Place Recording on Nashville, Tennessee's historic Music Row, complete with backing provided by professional studio musicians, as well as song mixing and production. One or more recordings from Jay's Place, as well as a more detailed personal profile, will be published on OverdriveOnline.com.
This contest is presented with partner Red Eye Radio, which will air interviews with the three finalists prior to the awards event. Red Eye's Eric Harley will emcee the finals event.