Rich Scripps, a company driver for Grassmid Transport, has been selected as one of 10 semi-finalists in the Overdrive-Red Eye Radio Trucker Talent Search competition. He submitted his cover of the Hawaiian Christmas song, "Mele Kalikimaka," which he says he posted "for friends for Christmas 'from the road.'"
Scripps, 61, of Spring Lake, Michigan, has been singing since the mid-1980s. He says he started as a drummer, then moved to Beaver Island, Michigan, where he started learning how to play keyboard. He says when he got divorced 20 years ago, he went though a tough period, which is when he composed his first songs.
"I may have written 20, with maybe a small few being good for consumption," he says. "Mostly sad, but some eventually happy, romantic, childish, and novelty. I have one that always raises eyebrows and captures and even embarrasses, even in songwriting workshops."
Hauling for Grassmid, Scripps goes "wherever they ask me," he says, hauling mostly Boar's Head products. He recently had two trips to the Seattle area, bringing back loads of shrubs to the Detroit area. He also goes to the Brooklyn, New York, area often, and hopes to go more often now that one of his daughters moved there recently.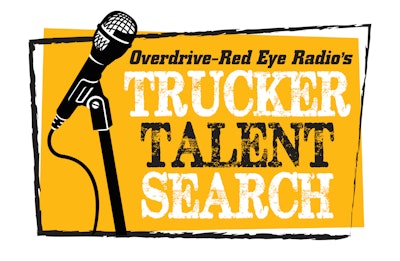 Judges will pick three finalists for the Trucker Talent Search competition. They will compete for the top spot by performing another song. Overdrive will air their final competition this summer in an evening streaming event, which will conclude with naming the winner.
That musician will win a full day's recording session at Jay's Place Recording on Nashville, Tennessee's historic Music Row, complete with backing provided by professional studio musicians, as well as song mixing and production. One or more recordings from Jay's Place, as well as a more detailed personal profile, will be published on OverdriveOnline.com.
This contest is presented with partner Red Eye Radio, which will air interviews with the three finalists prior to the awards event. Red Eye's Eric Harley will emcee the finals event.