Guy Archer, Rich Scripps and Mike Sheffield are set to square off in competition for the big win in the 2021 Overdrive-Red Eye Radio Trucker Talent Search. The event, to be streamed online September 16 at 5 p.m. Eastern, follows the three trucker-songwriters being named finalists in the competition in late June. The three competitors' final performances will debut, and a winner will be announced, in the online streaming event.
Those interested in watching the program when it airs can sign up to be reminded about it ahead of its airing here at OverdriveOnline.com and on Overdrive's Youtube channel, or just bookmark this page to come back at the appointed time.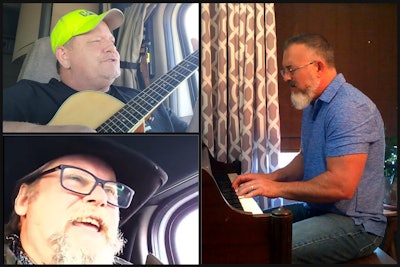 The winner will head to Jay's Place Recording studio in Nashville for a full day of recording sessions complete with the backing of professional studio musicians, mixers, and producers. One or more recordings from Jay's Place, as well as a more detailed personal profile, will be published on OverdriveOnline.com.
This contest is produced with partner Red Eye Radio, which has been airing interviews with the three finalists that you can also hear via this edition of the Overdrive Radio podcast. Red Eye's Eric Harley will emcee the event on the 16th.
[Related: 2021 Trucker Talent Search podcast preview]
In the contest's first seven years, virtually all contestants entered with either guitar accompaniment or singing a capella. The entries submitted by this year's finalists, all company drivers, featured Archer on piano and Scripps on ukulele. Sheffield played guitar for his entry. All three are presenting different songs for the final event.
Archer, 50, drives for Airgas USA. He's been trucking 28 years. He drives mostly within a 300-mile radius of his Dayton, Ohio, hometown, hauling liquid nitrogen, liquid oxygen and liquid argon.
Scripps, 61, lives in Spring Lake, Michigan. Hauling for Michigan-based Grassmid Transport, Scripps hauls mostly Boar's Head products.
Sheffield, of Evarts, Kentucky, drives for VV Logistics. He's 52 years old and has been trucking 29 years. He hauls mostly refrigerated freight.