Mike Sheffield of Evarts, Kentucky, has been selected as one of 10 semi-finalists in the Overdrive-Red Eye Radio Trucker Talent Search competition for 2021. He submitted his original song, "Hammer Down Again," which he says is about the feeling truck drivers can get while out on the road.
"Sometimes we get so busy out on the road that we feel like we're just going around and around," he says. "Hammer down westbound, turn around eastbound and hammer down again."

Sheffield's musical roots spring from singing in church as a child. He says he wrote his first song at around 15-16 years old.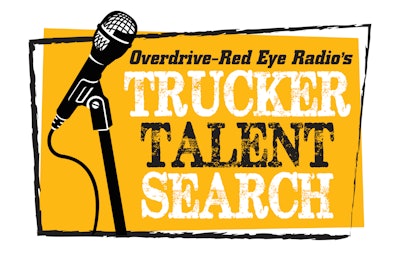 Judges will pick three finalists for the Trucker Talent Search competition, and those three will compete for the top spot by performing another song. Overdrive will air their final competition this summer in an evening streaming event, which will conclude with naming the winner.
That musician will receive a full day's recording session at Jay's Place Recording on Nashville, Tennessee's historic Music Row, complete with backing provided by professional studio musicians, as well as song mixing and production. One or more recordings from Jay's Place, as well as a more detailed personal profile, will be published on OverdriveOnline.com.
This contest is presented with partner Red Eye Radio, which will air interviews with the three finalists prior to the awards event. Red Eye's Eric Harley will emcee the finals event.