Trucker's kindness vivid decades later
In 1963, I was 14 and one of four boys running away from home in Toledo, Ohio, to become surfers in California, probably a dream for many boys since the Beach Boys were popular then. I was escaping a miserable home life.
One of us returned home, but the rest continued. We slept in cornfields, walked mile after mile, cold and hungry. Then one late night in Indiana, on a dark two-lane road, a flatbed driver gave us a ride.
The driver, in his late 20s or early 30s, introduced himself with a big smile, "Hi, I'm Keith Ketchum!" When he pulled into a truck stop, he asked if we were going to eat. We declined, not mentioning that we were broke. Keith said, "Well, boys, you can have a spaghetti dinner on me."
Words can't describe how good that big plate of spaghetti and meat sauce tasted!
Keith was headed in another direction, but he gave each of us $2. For three penniless boys, that was a fortune then.
My first job was at a Toledo truck stop, where I put in oil, pumped diesel and washed windshields. I washed rims and looked over the rigs for details that needed attention, as if each rig belonged to Keith. My next job included changing tires at a Florida truck stop. After serving in the Marine Corps, I became a skilled tradesman.
If Keith is still living, I'd want him to know that every time I'm at a stop light and a big rig pulls up, I think of his kindness toward three hungry and cold runaways. God bless you, Keith, wherever you are.
R. GREG MYERS, Waterville, Ohio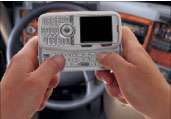 "I see it all the time."
— Trucker Baldomero Tapia tells the Dallas Morning News why a law is needed to prohibit texting while driving.
Do you use an electronic bypass system?




"It's easier, but whenever you pass through, you're in their [law

enforcement] system and they can track you."
MARY CARPENTER, Childersburg, Ala. Floyd & Beasley Transfer

"I use the bypass because then I don't have to go on the scale."
EDDIE PROCTOR, Decatur, Ala., Wiley Sanders

"I prefer it because they just wave you on and you don't have to stop and waste your time."
DAVID BOSWELL, Aberdeen, Md. | U.S. Army driver

"We've got PrePass. It was already in the truck, so we didn't have a choice."
JOE McLENDON, Iron City, Ga. | Trucks Inc.

"I pull onto the scales. Our company doesn't use PrePass. With PrePass they can track you."
MIKE ZAMORA, Austin, Texas | Leased to Frontier Transport
"I go into the scale house – I don't have a PrePass. I have had a PrePass before, but switched companies."
SHON OSBORNE, Ruston, La. | Leased to Schneider National
Share with Overdrive
E-mail your letter to the editor to Lucinda Coulter at LCoulter@rrpub.com or mail it to Overdrive, P.O. Box 3187, Tuscaloosa, AL 35403.