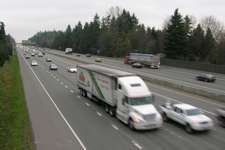 At the Mid-America Trucking Show, upcoming in Louisville, Ky., March 21-23, the Federal Motor Carrier Safety Administration will host a listening session open to the public on the issue of entry-level driver training standards. Drivers in attendance will be able to contribute opinions and insights on the topic to the long-ongoing regulatory discussion about standards to impact future rulemaking.
A Federal Register notice is in process with further information — basics are as follows:
The listening session will occur on Friday, March 22, from 1:00 p.m. to 5:00 p.m. in room C101 at the Louisville convention center. No registration is required. The session will also be webcast. Further information will be posted prior to the event.