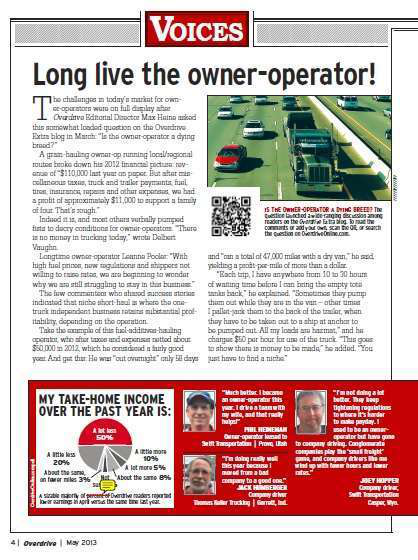 Today we say "long live the owner-operator," but 10 years from now will we be saying the same thing? Year after year, more owner-operators go out of business. Everyone is quick to jump in, pass judgment and say he or she didn't know how to stay in business. This could not be further from the truth.
You have to look at the factors driving the owner-operator out: the high cost of fuel, insurance and trucks. Add to that the contracts for hauling goods. The idea of an owner-operator may be the only thing we have to hold on to.
Those of us leased to a carrier think we are an owner-operator, but we're not. We are using the carrier's authority to operate. Oh, yes, we pay for the fuel, the insurance, the truck and trailer and all the upkeep of the truck and trailer. We have the right to refuse a load, and we can shut down and take time off when we want. But we are nothing more than an extension of a company driver with options.
As an owner-operator, I chose early in my driving career to be a heavy hauler, and with that came good paychecks. I have retired after 48 years. My last yearly gross settlement was $275,560. After expenses, my profit was $155,060.
None of the equipment or shippers or receivers ever talked back to me about what I had on my trailer. I worked for me. Not everyone can haul heavy loads that high, wide and over-length. Nevertheless, if you think you're cut out for it, take the chance. One day you could be making some good money for your services. How many of you can say that as you sit 16 to 24 hours at a shipper or receiver waiting to get loaded or unloaded?  –Mike McRae, Elkins, W.Va.