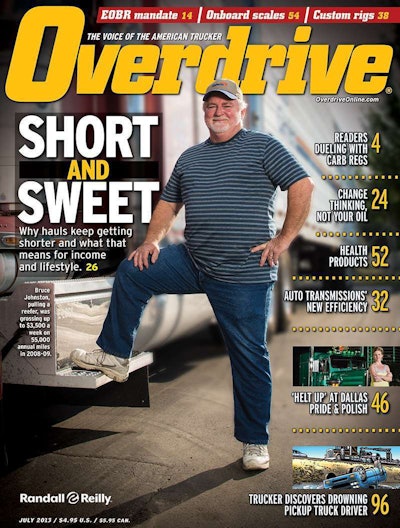 Sunco Carriers-leased owner-operator Bruce Johnston says Joseph Volpe, convicted in May on three counts — second-degree attempted murder, aggravated assault with a deadly weapon, and reckless endangerment with a deadly weapon — after shooting through the back of Johnston's 1997 Peterbilt on I-24 in Chattanooga, Tenn., in 2010, was sentenced yesterday, July 18, 2013.
Rather than get "the maximum" for his crimes, as Johnston hoped, Volpe will go to a Tennessee state work house for inmates, where he will spend close to a year and thereafter pay restitution of $17,500 to Johnston in $250 installments spanning the next seven years of his life.
In spite of his disappointment that Volpe won't be serving "serious prison time," Johnston says, he takes heart in knowing that "seven years is a long time commitment, and you know it'll be a thorn in [Volpe's] side to write that check. It'll be a monthly reminder of his actions."
Johnston's got his own daily reminder in the bullethole in the back wall of his Peterbilt's sleeper.
Johnston adds that, if Volpe's term in the work house is marred by incidents, or if he thereafter fails to make a payment through a probation officer, he will ultimately serve the entirety of three consecutive sentences for his convictions totaling 13 years.
For more of the background on the case, find Johnston's video recounting of the crime below, shot in June 2013, and Johnston's letter to Overdrive in May 2010 following Volpe's conviction via this link.
[youtube KLvafswWDcs nolink]