"The serious issue for the American economy is government enabling of the sell-off of the major manufacturing segments to foreign countries, eliminating a large part of the blue collar skilled labor in America. That leaves the transportation business the only one they have failed to be able to export. It appears they are hell bent on regulating it out of business." —Gary Carlisle, in his op-ed on the need for greater flexibility in the hours of service regulations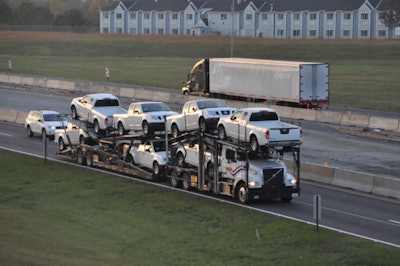 Kudos came in quickly for reader Gary Carlisle's call for returning rest/run flexibility to drivers' hands by, once and for all, fixing the 14-hour rule.
"The effect of making the hours of service more and more rigid is completely lost on those who write regulation and on a lot of these folks who try to direct trucking around," noted frequent commenter Safetygirl. She pointed to Walmart crash that injured comedian Tracy Morgan and killed another as "a case in point, the point having been missed by everyone involved in investigation and reporting. The driver may have been awake for 32 hours but he was completely within his hours of service on state-of-the-art electronic logs" when the crash occurred. The driver was "driving tired because he was attempting to comply with his hours of service without losing a day of drive time during his work week."
Pressure to maximize drive time within the 14-hour window of on-duty time, whether that pressure comes from the driver himself or herself, a dispatcher and/or other representatives of the company is a result of the rule, commenters argued, and many hoped for a return to sleeper-split flexibility, with rest periods that can extend the duty day.
"I never could understand how increasing driving time and giving no time for rest was safer," noted Norman Ott. "The only thing the 14-hour rule did was make it easier on enforcement. I would like to see [more] split-sleeper [possibilities] with the 34-hour restart. E-logs must make auditing a lot easier — no wonder FMCSA wants them."
A bit of good news is that the Federal Motor Carrier Safety Administration at least seems to have gotten some portion of the message on the 14-hour rule, given ongoing preparations for a study with potential to provide data that could underpin a return to greater sleeper flexibility in the rules.
As for the long erosion in compensation for/availability of blue-collar work in the United States that Carlisle implies in the quote from his op-ed at the top, among those expressing similar thoughts was Michigan-based owner-operator Ron Zinn, who called in and noted the tough situation for the "hammer swingers" in the United States, those who really do all the work and who once got their due.
"The world was made by hammer swingers," Zinn says. "They got the lion's share of the money because they were the ones doing the work. When the hammer swinger went home and got asked, 'what'd you do today?' – he could say, 'I did all these things, swinging the hammer.'"
When times were good, Zinn says, "America basically supported the world with our wages, because nobody spent money like Americans. Through the Clinton years, everything seemed to be going good. Free trade and NAFTA turned that the other way. How does anybody think this is going to fix itself?"
The offshoring of so much of industry before and after the North American Free Trade Agreement and other free-trade policy measures left, in Zinn's view, "only one thing to attack in America — labor," he says. "Free trade annihilated the $30/hour worker. We've lost our wages, lost our $30/hour, lost our middle class."
As illustrated in this linked post, part of the "Driver shortage alarm" package of stories, inflation-adjusted income/pay for owner-operators and drivers in trucking over the past 10 years has only just now rebounded from the Great Recession, an event precipitated in large part by the now well-known and reckless behavior of those in the white-collar world of investment banking. While the economic pressures on trucking companies large and small from the event have been well-documented, the wild card in the industry since that fall has been regulation, as Carlisle put it in his op-ed: "If the government and regulators had sense, they would back off regulation for 10 years and leave the new regulation alone. If they did that and cut expenditures 10 percent a year for 10 years, the American economy and American dream could recover."
Another frequent commenter, posting only as RC, responded to Carlisle's thoughts on the recession and its aftermath with this: "I remember spending a good part of [2009] hauling very nice equipment to the auction yards because so many dealers and rental outlets had so much unused capacity sitting on the lot rotting away. With the way the economy has collapsed following the oil boom ending, I've been speculating that 2016 might be the same.
"Lots of idle equipment sitting around probably will be liquidating soon to Ritchie Bros. I don't know if it's just me, but it seems nowadays that there is so much more regulation and push for electronic gadgets to mandate on us…. Basically, if you strip it all away, we do the same old job we've always done. We go to point A and load up and go to point B and deliver whatever it is we're hauling. In my opinion, the best way to do the job is usually the simplest. I really don't see a need for all this new wave of gadgets to follow and monitor us. If anything, it reduces efficiency. Now if big company XYZ wants to use the latest, greatest technology in their trucks, that's their business. I really don't care.
"But leave the rest of us alone, let us do things our way."