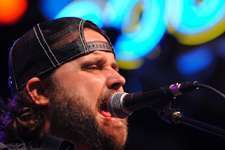 The Great American Trucking Show Aug. 26-28 will offer a free concert by leading country and bluegrass acts.
Country music singer Randy Houser will headline GATS' Friday night concert, presented by Mobil Delvac. Bluegrass band The Grascals will open for Houser. Tickets for the show are free and will be available the morning of Aug. 27 in the registration lobby.
Along with aisles of recruiting and equipment exhibits, the show also will have daily information sessions on topics such as fuel management, tax issues, financial efficiency, money-saving technology and the federal Comprehensive Safety Analysis 2010 program.
The show's leading seminar for owner-operators will be Overdrive's Partners in Business program. The workshop will be presented from 2-4 p.m. Aug, 27 by Todd Amen, head of owner-operator business services firm ATBS, and Overdrive columnist and trucking radio host Kevin Rutherford.
The workshop will cover monitoring fixed and variable costs, building emergency funds, choosing loads, improving fuel mileage and staying ahead of industry trends. Attendees of the presentation will receive a free Partners in Business manual.