FTR Associates on Feb. 3 released preliminary data showing January Class 8 truck total net orders for all major North American OEMs at 27,009 units, a 1 percent increase over the strong December 2010 activity.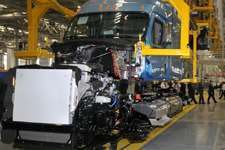 According to FTR, this is a marked improvement from the 6,400 units ordered one year earlier and is an increase of 324 percent from January 2010.
Net order activity annualizes to 251,900 Class 8 units over the last six months, and the prior three months alone at 319,500 units. The figure includes the United States, Canada, Mexico and exports.
"Orders for January came in above expectations," says Eric Starks, FTR president. "We had anticipated that they would be close to 25,000 units. The continued strong order activity in January adds more fuel to the recovery in the commercial vehicle equipment sector. With the recent sustained higher levels of order activity, 2011 is shaping up to be a very good year, especially relative to where we were in 2009."