The first installment of "Who's keeping score" examined issues surrounding driver PSP reports and carrier use of them in qualifying/screening procedures for new hires/lessees. Read it here.

Vigillo's Roadside Resume (roadsideresume.com) service, launched in early 2011, sees hundreds of drivers log in every day, says Steven Bryan, founder and chief executive officer of the company.
The company also acts as a third-party CSA data miner for carriers. It has developed software to take carriers' roadside inspection and crash data and, from that, provide carriers with proprietary CSA Scorecards for each of its individual drivers.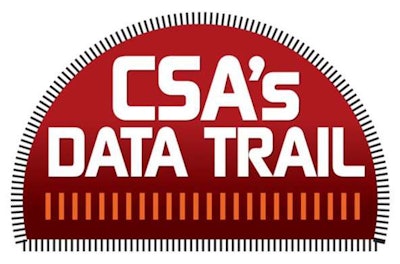 As it accumulated customers, its access to carriers' data enabled the company to launch Roadside Resume. Bryan says the product has been the only place leased operators and drivers can see their BASIC scores independent of carriers. More than 1,000 fleets participate in the system, and Vigillo claims to have some data on about a million drivers.
However, Roadside Resume scores will appear only for drivers who've worked with or for a Vigillo customer. They will not be exactly like what FMCSA has internally, given the agency's access to all roadside and crash information.
Driver Martin Groseclose's Roadside Resume "only listed one carrier I worked for, and it was the last big carrier. … I had one Level 3 inspection working for them," with no associated violations. According to the resume, "I have a perfect CSA score."
Carriers that aren't Vigillo CSA Scorecard customers can choose to participate in the company's affiliate program and provide Vigillo access to its MCMIS data to populate the Roadside Resume for their drivers. Those that do can access free of charge driver records that Vigillo compiles for employment-screening purposes via its own PSP service; data will be limited to what Vigillo has in its own system.
As with independents' and other motor carriers' rankings in the public SMS (csa.fmcsa.dot.gov), Roadside Resume scores are shown as percentile rankings of 0 to 100, where low is best. They compare performance to that of other drivers in the system.
"When a driver is in their account, they can save their scorecard as a PDF or an Excel file," then print and attach it with the history provided to a prospective employer, says Bryan.
"As long as sites like Roadside Resume remain free for drivers, then I think they could be put to use by drivers – a handy tool to cross-check different databases to see what others are looking at when you apply for a job," Groseclose says, "Plus, it gives you a good idea to find out if there is conflicting information on your driving record so you can be proactive and correct the information, … In a one-on-one interview, you don't want to get caught by surprise."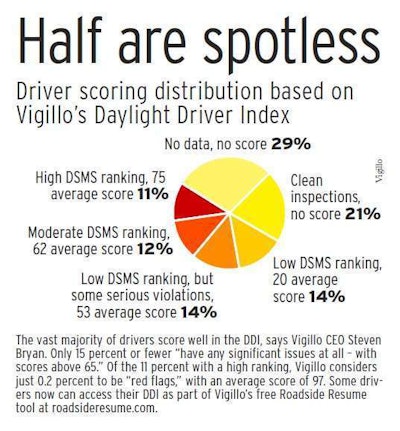 Roadside Resume profiles were set to be updated to reflect both the updated CSA BASICs and violation severity weights as well as Vigillo's Daylight Driver Index in December. The DDI purports to provide a single number (also 0-100, where lower is better) that claims to show each driver's safety performance as an absolute value, not relative to others' scores.
Bryan likens the DDI to the Inspection Selection System score every carrier gets. That number is an indicator meant to help scale-house and roadside officers, as well as bypass systems, prioritize certain carriers to get pulled into the scale or the holding pen for inspection or get bypassed.
As a gatherer of consumer data, Vigillo falls under Fair Credit Reporting Act protections directly. They have a complaint process set up independently of FMCSA's DataQs system for challenging information on a PSP report or in a carrier's SMS profile. The process is accessible on the Resume website to account holders.
Read Part 3 of "Who's keeping score" here. It details how carriers are using various third-party services to score their own current and prospective drivers.