The first and second installments of "Who's keeping score" examined issues surrounding driver PSP reports, carrier use of them in qualifying/screening procedures for new hires/lessees and Vigillo's "Roadside Resume" CSA Scorecard tool for drivers.
At carriers that use Vigillo and other providers to rank their current drivers in the CSA BASICs, drivers often are compared only to peer groups at their carrier.
Phoenix-based Transportation Performance Inc. is a service provider with a customer base made up primarily of larger fleets, says President Mark Martin. In its system, drivers' numbers in the BASICs in TPI's CSA Performer tool will be relative only to fellow lessees or employees at their carrier. Data contained in the TPI system is available to drivers only to the extent that the fleet wants to share it.
At Minnesota-based Transport America, the carrier's scores as well as TPI-generated driver CSA numbers are shared routinely with the company's 1,800 drivers, including 300 owner-operators, during annual reviews. "We make sure they know right where they stand," says Gary Falldin, safety director. "The more drivers know and understand about CSA, the better. It really can affect their careers."
With TPI's tools, fleet personnel can set thresholds in the different BASICs that, when reached, will mark that driver for action as deemed necessary by the company.
At Transport America, says Falldin, the process for CSA score-initiated driver reviews is "more intuitive. … If there's a problem, we would have identified that even before the annual review. But that's a good time to sit down face-to-face and see where they are and what extra training they may need."
Prime Inc. began sharing TPI-produced driver CSA rankings at safety meetings leading into the program going live in 2010. "We used to just bring it up in live meetings," says Don Lacy, safety director. " 'Who wants to know their CSA score?' We'd pull them up" and spend up to an hour or more telling everybody where they stood. "We still get a steady supply of calls, and people can walk in," Lacy adds. "We pull it up and explain to the guys where they stand. We've had a few guys who've gotten up too high, and we've suggested they need to go somewhere else."
Lacy says those cases have been few, though, and that termination is not something the company bases solely on a TPI-generated number without an audit of the reasons for numbers being high. "We start really warning them up in the 65 percent range – the conversation is more about your performance and behavior" than the numbers.
"If it's a maintenance-related issue, they sit down and take a 42-minute course on how to do proper pre- and post-trip inspection," Lacy says. "The number-one violation in [the Unsafe Driving BASIC] is the seatbelt violation. If they don't wear the seatbelts, they're required to take a four-hour Smith System course. We feel we have to take corrective action on whatever it is."
(For an infographic on carrier use of driver PSP reports and third-party scoring services — first published with Part 1 of the "Who's Keeping Score" story — follow this link.)
Martin says TPI has no plans to market carrier and driver data to drivers directly, but rather will remain simply a carrier compliance management tool. "The risk of providing that information is greater than the temptation to expand that market," he says. "There's no way to give the drivers a complete picture of their performance … with the turnover in this industry. There are too many holes. The only way [for carriers] to get a complete view of the performance is to spend the PSP money."
TripPak, in partnership with Vigillo, offers the CSAdvantage program, combining its log-auditing service with Vigillo's CSA Scorecards and utilities similar to what TPI offers its carrier subscribers. "Knowing your scores is great, but what do you do with them once you know them?" says Steve Sichterman, TripPak vice president of business development. "It's about helping the fleets have training in place so they can be proactive in their training with the drivers before the DOT comes in."
Carriers that use CSAdvantage can adjust follow-on action thresholds in the BASICs and group drivers under various managers responsible for keeping an eye on performance. Access to training materials also is offered.
"We partner with J.J. Keller, and we've developed our own training," says Sichterman. If a carrier owns rights to other e-learning courses, "we try to be receptive to other training" and can integrate those into the system. "We've also done a good bit of one-off development for fleets."
J.J. Keller & Associates itself offers PSP reports as a service to carriers. Keller's new PSP tabulates the violation severity weighting points that would contribute to the carrier's CSA rankings if a prospective driver were driving for the company today, says Cody Puuri, senior business development manager.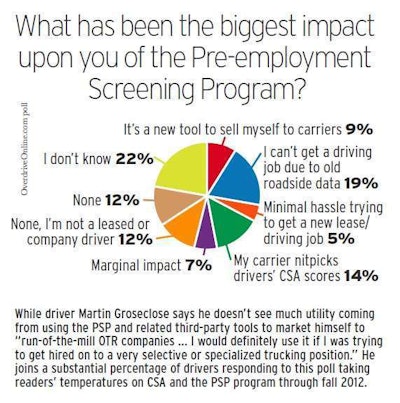 Provision of a statistical metric of a driver's PSP appears to be what happened to independent owner-operator Martin Jez when he was told his CSA score was 300. That was likely a time- and severity-weighted aggregation of his report data. Such tabulation tools aren't intended to offer a ranking within a driver peer group, but rather to provide a total number of points represented by the violations on a PSP. Some carriers of size have developed their own proprietary systems that function this way. J.B. Hunt driver M. Rick Richards says the carrier enables his access to view his own violations and points totals through an online portal, and Joe Beacom, a Landstar safety executive, reports the all-owner-operator carrier administers a similar tool.
Jez, counting up the basic severity weights of the violations on his PSP, came to only 46 points. The key to understanding how the carrier got to 300 is likely in the time weighting. FMCSA's internal Driver Safety Measurement System methodology specifies violations within the last year are multiplied by three, those in the second most recent year by two. Out-of-service violations then add points to each weight that also are multiplied if they took place within either of the last two years.
In early December, Jez reported having found a potential lessor. That carrier, Texas-based RoadMasters Transport, "takes a different view of the PSP," he noted – one he felt was more suited to the reality that an incoming driver's prior violations don't contribute to the new carrier's CSA score.
RoadMasters has no rankings in any of the CSA BASICs above the intervention threshold level, an indication that they've gotten their compliance operation in shape. Two of the carriers that denied Jez a lease, however, had three rankings above intervention threshold in the SMS Results database (find the public lookup tool at csa.fmcsa.dot.gov, click "SMS Results"). Such carriers are likely to view a driver with a pattern of inspection violations, for whatever reason, to be too great a risk.
Just as carriers will do their homework on a prospective driver, drivers should do their own before applying for a lease or job at a carrier to mitigate unknowns and lofty expectations.