Unlike independents running under their own authority, who can always see a wealth of detail by logging into their online accounts with DOT, leased and company drivers have little recourse with the federal government to see any kind of numerical assessment of their performance relative to the Compliance, Safety, Accountability (CSA) program. FMCSA's still keeping its Driver Safety Measurement System under wraps, and the only public and free tool for such is Vigillo's Roadside Resume, which I wrote about most recently here — nowhere near all drivers' data is represented there.  Driver Pre-Employment Screening Program Reports, furthermore, only list violations and other incidents, so if you wanted to see just your points totals, for instance, you're left to painstakingly (or not, depending on how clean your recent inspections have been) look up each violation in the CSA severity weighting table and have a calculator and maybe some aspirin handy.
On the other hand, some carriers have software to make that computational process fairly quick and easy. And some have gone so far as to offer drivers online access to their numbers real-time. Longtime Sacramento, Calif.-based J.B. Hunt company driver M. Rick Richards says he can "log into a company website and view CSA metrics at any time." The system gives him a points tally of his violations that are contributing to the carrier's Safety Measurement System rankings. When we talked in November he was showing only "18 points in the last year," he says, 16 of them from one ticket for a California-issued wrong-lane-use violation with a warning for speed, flagged "dangerous driving" in the system.
He was told by his employer that it may have been improperly coded, and thus could be challenged via FMCSA's DataQs system. "It makes me mad that they call a wrong-lane violation 'dangerous driving,' for one," Richards says. "And it shows me that the system still has problems that need to be ironed out. The people that enter that information from the cities and states need to be a little more accurate about what they're doing."
Overall, he sees the 18 points as "not a big deal," but he echoes other operators' concerns about the CSA regime when he objects to states "entering the information before you ever go to court."
The Owner-Operator Independent Drivers Association lawsuit I've previously written about, filed early in the year, looks at the central issue of the lack of due process in operator challenges to violation information being included in CSA well after being dismissed by courts of law. It was still in very early stages in November, said OOIDA Executive Vice President Todd Spencer. "The court procedures are agonizingly slow," he said when we talked a few weeks back, but he felt confident in the merits of the case. "We contend that in instances where drivers receive citations and they're subsequently found not guilty, that citation must go away," must be removed from the Motor Carrier Management Information System that is the data well CSA and the Pre-Employment Screening Program draw from.
"Currently, of course, it doesn't," says Spencer. "This is a fundamental issue of due process…. There is no exception [to that right] because somebody happens to be a truck driver."
In addition, the suit argues that FMCSA is acting as a consumer reporting agency under the definitions found in the Fair Credit Reporting Act and is putting illegal barriers to drivers obtaining the information collected about them. Currently, the only way drivers can, free of charge, access a full accounting of their inspection/crash histories being collected by government is via the somewhat cumbersome Privacy Act request – or pay $10 for your own PSP report. "You shouldn't have to jump through 15 million hoops or pay money," says Spencer, "to find out what kind of information the government" is collecting about your business.
FMCSA suggest that the existence of the Privacy Act and Freedom of Information Act are sufficient to satisfy FCRA rules concerning consumers' free access to information being collected about them. Asked why it costs $10 to access a PSP report, FMCSA sources had this to say: "A driver may request a free copy of his or her report at any time by submitting a Privacy Act request to the United States Department of Transportation." What's more: "A carrier may request a free copy of a driver's record through a Freedom of Information Act request."
Sources with the HireRight company (who is subject to FCRA rules with its DAC Report employment history files) felt that FMCSA and NIC Technologies, administrator of the PSP service, are not acting as credit-reporting agencies, rather shifting the burden of FRCA responsibilities onto the companies utilizing the reports. "If the prospective employer uses the PSP report in whole or part to make an adverse hiring decision based on the PSP report," sources note, "they are required to provide the consumer with a copy of the report."
Commercial drivers in some ways have been hung out to dry relative to the PSP. Since "neither FMCSA nor NIC are operating as a consumer reporting agency," HireRight sources say, "the other free report situations do not apply to them."
In the OOIDA-brought case, currently, Department of Justice lawyers for FMCSA are "focused on contesting the case on procedural grounds," Spencer said, "rather than addressing the merits. We're optimistic that the agency itself will address the merits as it moves" to correct inequities in the CSA regime.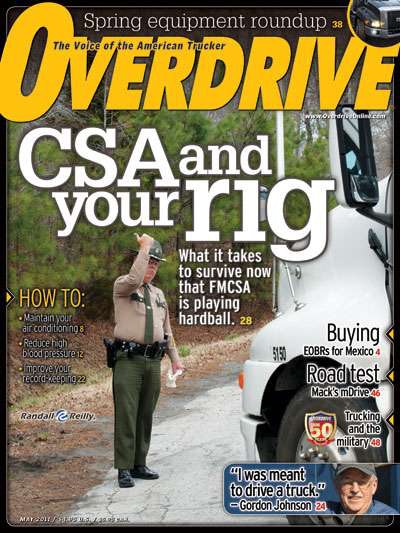 Access your information
In our March 2011 cover story, we detailed pointers on obtaining PSP information via Privacy Act/Freedom of Information Act request, making a DataQs challenge to erroneous information and much more of the CSA information-monitoring basics. Visit OverdriveOnline.com/csa-and-safety-scores.
Read about Paul Todorovich's run through the FOIA/Privacy Act request process here (he found a three-week turnaround).