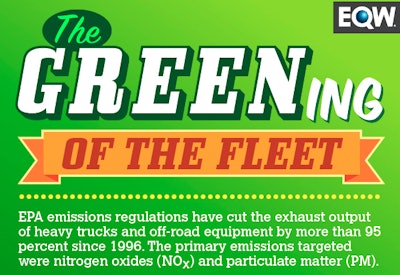 Overdrive sister site Equipment World has on its site an infographic detailing how federal emissions standards implemented by the U.S. Environmental Protection Agency have reduced the amount of harmful emissions — like NOx and particulate matter — since standards began changing in 1996.
It's also, in some ways, an advocate of the modern truck, showing statistics similar to ones posted on Overdrive in the past (see Todd Dills' Channel 19 blog entry from Sept. 22, 2012) and a look at what's to come in the next decade or so when trucks equipped with modern emissions tech replace all trucks that aren't.
Click the photo below to see the full infographic.