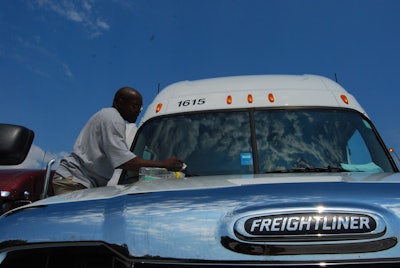 The Federal Motor Carrier Safety Administration has withdrawn its 2007 entry-level driver training rulemaking to promulgate a revamped proposal incorporating more recent feedback on what's needed, much of it garnered via listening sessions, one of which we covered directly at the Mid-America Trucking Show this past year. In its Sept. 19 announcement of the withdrawal, the agency noted the 2012 MAP-21 highway reauthorization included language on setting these standards. "… A new rulemaking would provide the most effective starting point for implementing" the new regulations, the FMCSA wrote. The 2012 law also mandates the FMCSA issue a Final Rule by Oct.1., and stipulates training address knowledge and skills for operation, specific requirements for hazmat endorsements and a uniform federal standard be set for training.
"While the withdrawal is somewhat emblematic of the agency's past approach to driver training, untargeted and low on the priority list, we are hopeful that this is an opportunity for them to have a unique perspective and follow the path on driver training that our professional and experienced members have suggested," said Owner-Operator Independent Drivers Association Executive Vice President Todd Spencer. "This basic highway safety step is long overdue, having initially been a Congressional directive in 1991."
The Association sees the withdrawal as a step back in the effort to enact mandatory entry-level driver training, but it also sees an opportunity in advancing its "Truckers for Safety" agenda, which includes an in-depth driver training proposal for long-haul truckers.
The agency said it had considered comments submitted on the original 2007 NPRM, feedback received during the public listening sessions last spring and the FMCSA's Motor Carrier Safety Advisory Committee June report — find discussion notes from MCSAC's December 2012 discussion on the subject via this link.
To read more about the agency's current research projects on driver training and background on the entry-level rule, see this story on Overdrive sister site CCJ.
Read more on the issue of driver training here at Overdrive from past coverage.