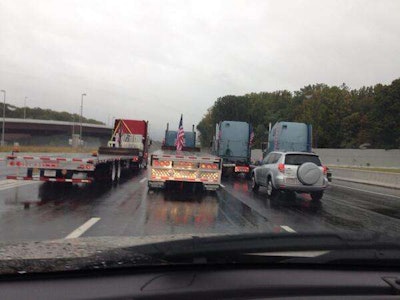 Thousands? No. Just one lane? No. pic.twitter.com/efycACHgAb

— John Domen (@JDonWNEW) October 11, 2013
As the Ride for the Constitution effort got rolling October 11, reports of some participation in its plan to clog the beltway began trickling out.
WJLA-TV reported that by 8:45 a.m. Eastern, Virginia State Police "said that about 30 tractor trailers left a stop in Dumfries at about 7:30 with plans to head toward Washington." Fifteen were spotted there "bearing the official Twitter hashtag of the ride," #T2SDA.
Coordinators were saying participants would be circling the beltway driving in 8-hour shifts. "We've got to stand together, we've got to be united," coordinator Earnest Lee told WJLA. "Guys, we've got to keep it peaceful, we've got to keep it clean."
#TruckersRideForTheConstitution #T2SDA are off! :) —> pic.twitter.com/cMUAox0ixl

— LizzieFiles (@LizSchmidt3) October 11, 2013
#T2SDA RT @ABC7Jennifer: pic of the truck protest on the beltway courtesy @ABC7Bri pic.twitter.com/3bxx9AZkxe

— ABC7News (@ABC7News) October 11, 2013
Queries as to participation on Overdrive's Facebook page posted at 8:45 a.m. Central yielded many responses but only a couple expressions of support of the effort.
Driver J.B. Schaffner, signatory to the Ride's manifesto, as reported in this story, left the I-81 Wilco stop in Harrisburg, Pa., in his pickup, flying a two-by-four and a half foot flag, early the morning of Friday, October 11, for a run down to the Doswell Truck Stop in Doswell, Va. "We've got drivers already out there," he said, referring to planned shifts of driving around the Capital Beltway, or I-495. "We've got people showing up with their flags out."
He'd arrived at 7 a.m. Eastern time to reports that the Doswell "parking lot was full" through the night. "A percentage was overnight parkers traveling through — that's not to say they didn't put a flag on their truck and drive a time or two around the loop."
Various drivers and Ride reps, Schaffner said, were engaged with local and national media in interviews on both trucking issues and broader political goals of the Ride effort. One was Juan Rolon, a participant in the Wed., Oct. 2, conference call Schaffner organized to hash out the trucking issues that were ultimately included in the Ride manifesto. Rolon is a part of the Port Driver Federation 18, representing 1,300 members, largely independent owner-operators working to the North New Jersey piers. For Rolon, as he said Oct. 2 during the call, detention's effect on operators' ability to make a livable income with hours regulations as well as concerns with re-classification efforts among port drivers are big issues of concern.
#T2SDA trucks with US flags on side on Inner loop of beltway in three right lanes pic.twitter.com/077p4lcl6t

— Bri Carter (@ABC7Bri) October 11, 2013
In order to get what Ride organizers want — namely removal of President Obama from office, as primary promoter Zeeda Andrews has stated, as well as movement on other issues, some trucking-related — Schaffner hoped for reduced spending by all throughout the nation. Schaffner's now-deceased brother, Fred, "and I blocked $938 million dollars from Virginia," he said, by arguing the state's two-hour parking time limit at rest areas contravened federal hours rules for drivers. At the time, Virginia was also looking to close many of its rest areas as it faced a budget shortfall. Following the successful argument against the parking time limit, cutting off a significant flow of federal funds to the state government, Schaffner says, "two and a half weeks later Virginia officials had adjusted their policy and the whole issue of closing those rest areas went away quietly."
If the Ride got the participation of half of the American public, he says, "that's $10-$15 billion dollars" in tax revenue that would go uncollected.
Commentators have estimated that filling the Capital Beltway with trucks for the entirety of the three-day protest would cost as much as $13.5 million in fuel, assuming 17,000 trucks running continuously.