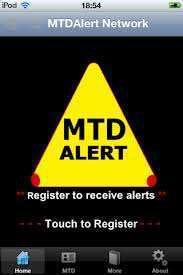 Kari Fisher, ridealong partner of driver Lee Fisher and founder of the Missing Truck Driver Alert Network, launched the new MTDAlerts app at the Owner-Operator Independent Drivers Association's 40th-anniversary Heart of America trucking show Friday, Oct. 18. Since the launch, says Kari Fisher, "we've had 300-400 folks register" to receive the text alerts the app enables, and that number just continues to grow.
Fisher says that app is available on iPhone, iPad and Android platforms, and in addition to enabling text alerts to drivers' phones when a verified missing-driver report comes through, the app makes for a convenient method of reporting a sighting as well. If users "think they've spotted the truck," she says, they can use the "report a sighting" function within the app "to send a GPS alert back to us to notify us that they have a possible sighting."
Download the app for Android.
The alert network began as a Facebook group intended to leverage the nationwide community of millions of commercial drivers toward assisting carriers, family members and law enforcement in finding drivers reported missing out on the road. Today, it also boasts a website and central location for calls to report a missing driver. Before reporting a driver missing to the network, says Fisher, carriers and family members are urged to get clarity on the year, make, model and color of the truck involved, likewise all registration numbers for the carrier on the truck's doors. "A physical description of the driver [with pictures if available], what truck stops he typically uses, any medical conditions he has," and other relevant information also helps, she says.
Download the app for iPhone/iPad.
Search "MTDAlerts" on your Android or iPhone/iPad device's applications marketplace to install the app and register for alerts.
Related:
Helpful fleet partner for MTDAN in Lightning Logistics
Kari Fisher was honored in 2012 with the "Making a Difference" award at the Truck Driver Social Media Convention