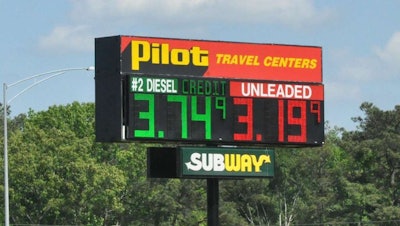 Only 1 percent of the affected class members in the proposed settlement reached by Pilot Flying J and plaintiffs to settle the alleged fuel rebate withholding scam have chosen to opt out to pursue other legal action, according to a court document filed in a U.S. District Court in Arkansas this week.
The filing asks for the class-action settlement to be stamped for final approval by the court, as, in addition to the 1 percent opt-out rate, no members of the class filed an objection with the court, according to Pilot's request, which calls the settlement "fair, adequate and reasonable for the class" — the criteria the court set for approving the settlement.
The company submitted a petition earlier this moth seeking approval of the settlement's figures — a $72 million deal that would award $55 million to trucking companies for money owed in unpaid fuel rebates, $4.1 million in interest on that money owed, $3.5 million for auditing costs and up to $14 million for attorney's fees, though that number could be smaller in the end, Pilot says.
The request for final approval, like the petition for preliminary approval, says that 59 companies have opted out, meaning that nearly 6,000 trucking companies were included in the class-action settlement and presumably had fuel rebates withheld by Pilot.
Pilot reached the settlement in the District Court in Arkansas in July, and a group of other lawsuits was shortly thereafter deferred to the Arkansas settlement.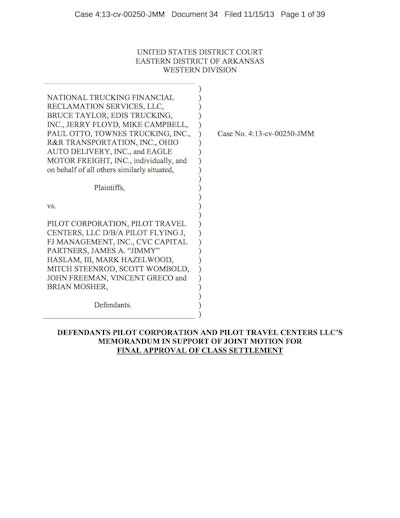 A fairness hearing to decide the fate of the settlement is set for Monday, Nov. 25.
Pilot was actually hit with another lawsuit this week, filed by Moore Freight Service out of Tennessee. The carrier, like the other two dozen or so lawsuits against the truck stop giant, is suing for conversion, fraud, violation of consumer protection laws, breach of contract and is seeking damages and attorney's fees.
Pilot's Knoxville headquarters were raided by federal agents April 15 to seize documents and electronic evidence. The same week, a federal affidavit was unsealed that detailed an alleged scheme in which Pilot and its sales staff systematically and intentionally cheated customers out of owed fuel rebates in order to boost company profits and sales staff commissions.
Several Pilot employees have pleaded guilty to counts of fraud since.
Pilot CEO Jimmy Haslam — who has maintained throughout that he was not aware the scheme was occurring — unveiled a plan in May to pay any owed funds to its customers and prevent the withholding from occurring in the future.
Click here to see all of Overdrive's coverage of the allegations.