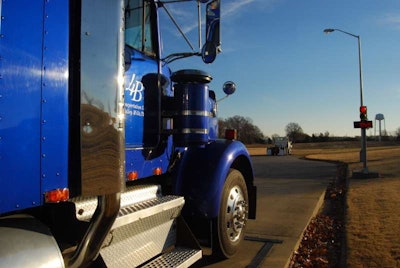 Parts 1 and 2 of this series explored the advantages and disadvantages of running under your own carrier authority and offered a step-by-step guide to filing successfully for it.
After filing for authority successfully, you are responsible for "buttoning up your business," says National Association of Small Trucking Companies President David Owen. (NASTC offers a monthly New Entrant training session for new or potential future members– find a report from one session in 2012 via this post). In 2008, new regulations strengthened the Federal Motor Carrier Safety Administration's New Entrant Safety Assurance process, which earlier established critical compliance areas to be targeted during new entrant audits.
FMCSA stats for the last few years show more than 80 percent of new entrant audits were conducted on time – within the carrier's first 18 months. It's critical you put into place evidence of your attention to compliance and safety management. Critical areas of focus for new entrant audits include driver qualifications, logs, maintenance programs, a filed and up-to-date accident register and written drug and alcohol policies and procedures.
Any of the following violations will result in an automatic failure of the audit:
**Failing to implement an alcohol and/or controlled-substances testing program.
**Driving or using a driver with an alcohol content of 0.04 or greater.
**Using a driver who has refused to submit to an alcohol or controlled-substances test.
**Using a driver known to have tested positive for a controlled substance.
**Failing to implement a random testing program (see No. 1).
**Driving or using a driver without a CDL.
**Driving or using a driver with a suspended, revoked or canceled license or a federal disqualification.
**Allowing a disqualified driver to drive.
**Not carrying appropriate insurance, including minimum cargo ($5,000 per vehicle and $10,000 per occurrence) and $750,000 primary liability.
**Knowingly using a physically unqualified driver.
**Failing to require a driver to keep record of duty status current.
**Running a vehicle declared out of service before repairs are made.
**Failing to correct out of service defects listed on vehicle inspection reports before further operation.
**Running a truck not inspected periodically.
Owner-operator Cody Blankenship started out in trucking prior to FMCSA's New Entrant Audit program, which was mandated in a 2002 interim final rule. Blankenship picked up a lot of what he knows today about compliance as he went along, a tactic that's not advisable in today's climate.
Owner-operator Joe Bielucki used a startup compliance kit published by J.J. Keller. The Owner-Operator Independent Drivers Association has similar resources available, including its CMCI drug and alcohol testing consortium. Membership in the consortium comes with boilerplate random-testing policy language you'll need on file in your office. Also, says Bielucki, you'll need to keep a driver qualification file up to date on yourself, which includes pulling your own state Motor Vehicle Record yearly and filing it. Likewise, says compliance consultant Richard Wilson, "get a pre-employment drug test on yourself, and file it. Anytime you get a new medical card, you have to put it in your driver qualification file. … If you have a compliance review and you haven't done [these things], you'll be cited for a violation and fined."
Wilson's TCRG Consulting also offers one-stop compliance packets, and on occasion he's hired to visit a new business and work through the various filings with the New Entrant. His kit goes for $300, with the only thing you'd need to find on your own being a drug and alcohol testing consortium.
VIDEO: Audit your drug and alcohol testing consortium
As discussed throughout this series, independents will need to enroll in a drug and alcohol testing consortium. Before you do, however, take pains to verify any consortium's ability to meet the regulations, says compliance consultant Richard Wilson. Those regs require random-testing 10 percent of drivers for alcohol in any given year and 50 percent for drugs. Below, find a video interview with Wilson on the subject, where he describes carrier fines that resulted from a drug and alcohol consortium's failure to satisfy federal regulations on testing frequency.
[youtube C89jR2w2x7w&list=UUVb9_pwbvG99tK1apahFyIg nolink]
Partners in Business | With the business consultants/tax specialists at ATBS, Overdrive produces the Partners in Business manual annually, with updates. The manual includes multiple chapters on strategies toward profitable operation and a detailed look at issues related to running with your own authority. It has a devoted, in-depth chapter on issues surrounding compliance.
You can purchase a copy of the manual ($19.95) via the eTrucker online store here.