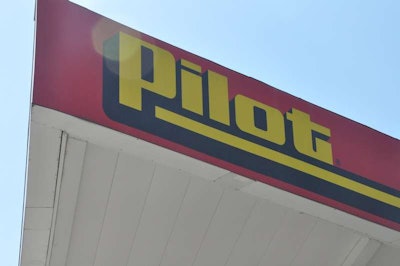 The seven outstanding lawsuits filed against Pilot Flying J over its fuel rebate withholding scheme have been ordered to mediation, where the trucking companies who opted out of the fuel provider and truck stop chain's class-action settlement will seek to reach a separate settlement with Pilot.
U.S. District Judge Amul Thapar, who was assigned to the case by a panel on multi-district litigation in April, filed the one-page order July 30, referring the parties to a magistrate judge in Kentucky, where the cases were transferred by the April ruling.
The trucking companies who opted out of the $85 million settlement last fall to pursue separate litigation include: Shoreline Transportation of Alabama, Osborn Transportation, Wright Transportation, National Retail Transportation, Mario's Express Service, Triple D Supply and FST Express.
The cases were consolidated in April and transferred to a federal court in Kentucky, which also oversaw the criminal proceedings.
According to court documents, Thapar also ruled last week that the court must allow Pilot the chance to dismiss its case before the plaintiffs could "take discovery on their fraud claims to arm themselves against future motions to dismiss," Thapar's ruling says.
Pilot Flying J entered a $92 million agreement with the U.S. Justice Department earlier this month to resolve the criminal investigation into the withholding scheme, which came in addition to the $85 million settlement reached last year in the civil proceedings.
The class-action settlement included 5,500 trucking companies, to which Pilot agreed to pay all money withheld, along with 6 percent interest.
The criminal settlement prevents Pilot from being prosecuted, but it does not prevent individuals involved in the scheme from being prosecuted.
So far, 10 Pilot employees have pleaded guilty to various fraud and conspiracy charges in the case.
Pilot Flying J owner Jimmy Haslam has maintained he knew nothing about the scam and has denied involvement in it.