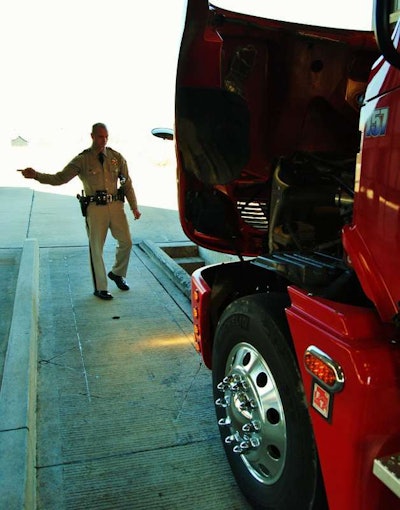 The American Transportation Research Institute today released its "Commercial Motor Vehicle Enforcement – Top 10 High-Performance States" analysis, a follow-up to its enforcement-disparities report released over the summer. ATRI researchers identified the top 10 states that demonstrate superior safety and enforcement performance.
In the top spot, notably, was Maryland, a state that also ranks No. 1 in Overdrive's own analysis for the intensity of its inspection program, conducting more inspections per lane-mile of interstate within its borders than any other in 2013, at rates more than three times the national average. In ATRI's comparative analysis, researchers developed a weighted formula for identifying the "Top 10" high-performance states across 11 metrics that were likewise highlighted in the research organization's enforcement-disparities study, assigning a points value (10 for No. 1, 1 for No. 10) to states' rankings in each of the following: Crashes per MVMT (million vehicle miles traveled), fatal crashes per MVMT, roadside inspections without violations (clean inspections) per MVMT, roadside inspections per MVMT, violations per MVMT, out-of-service (OOS) violations per MVMT, traffic enforcement stops (TES) per MVMT, violations issued during TES per MVMT, "red flag violations" per MVMT, Crash Predictor violations per MVMT, and state funds expended per federal Motor Carrier Safety Assistance Program funds.
Those receiving the most points in the ATRI formula ultimately were ranked the highest.
The top ten performers follow, along with data from Overdrive's own analysis of individual states' 2013 violation priorities and inspection intensity, also available at this link in an array of downloads and interactive map displays. State names colored red indicate more than 60 percent of state inspections were conducted at fixed locations such as weigh stations. Names colored blue indicate more than 60 percent were conducted at roadside. Percentages indicate the overall share of that states violations and/or inspections that fell within the different categories.
Follow the related links for reports related to a few of the states singled out here, Maryland, California and Connecticut.
1. Maryland
Inspection intensity rank: 1
Clean inspections: 47.3%
VIOLATION PRIORITIES
*Lights — 20.8%
*Brakes — 16.5%
*Observed vehicle defects — 12.4%
*Tires — 6.8%
*Hours — 6.6%
*No/defective/unsecured emergency equipment — 5.9%
2. Washington
Inspection intensity rank: 18
Clean inspections: 41.9%
VIOLATION PRIORITIES
*Observed vehicle defects – 15.1%
*Brakes – 15%
*Lights – 13.8%
*Hours – 10.5%
*Tires – 4.7%
*No/defective/unsecured emergency equipment – 3.3%
3. Nevada
Inspection intensity rank: 10
Clean inspections: 48.6%
VIOLATION PRIORITIES
*Lights – 20.8%
*Hours – 13.5%
*Observed vehicle defects – 14.2%
*Brakes – 9.5%
*Lack of periodic inspection – 5.6%
*No/defective/unsecured emergency equipment – 4.5%
4. Rhode Island
Inspection intensity rank: 38
Clean inspections: 23.7%
VIOLATION PRIORITIES
*Lights – 25.1%
*Observed vehicle defects – 17.3%
*Brakes – 9.5%
*No/defective/unsecured emergency equipment – 6.6%
*Medical certificate – 5.3%
*Tires – 3.6%
5. Montana
Inspection intensity rank: 27
Clean inspections: 57.7%
VIOLATION PRIORITIES
*Brakes – 20.4%
*Hours – 18.2%
*Lights – 13.6%
*Tires – 9.2%
*Observed vehicle defects – 7.8%
*Lack of periodic inspection – 5.3%
6. Connecticut
Inspection intensity rank: 15
Clean inspections: 15.1%
VIOLATION PRIORITIES
*Brakes – 17.1%
*Lights – 17%
*Observed vehicle defects – 14.7%
*Hours – 9%
*Tires – 4%
*Medical certificate – 3.5%
7. New Mexico
Inspection intensity rank: 6
Clean inspections: 51.9%
VIOLATION PRIORITIES
*Lights – 15.8%
*Hours – 15.6%
*Observed vehicle defects – 11.1%
*Brakes – 8.7%
*Tires – 7.7%
*Speeding – 6.4%
8. California
Inspection intensity rank: 3
Clean inspections: 55.2%
VIOLATION PRIORITIES
*Observed vehicle defects – 28.8%
*Brakes – 24.1%
*Tires – 10.3%
*Lights – 10.1%
*Hours – 4.3%
*Steering mechanism – 2%
9. South Dakota
Inspection intensity rank: 42
Clean inspections: 51.2%
VIOLATION PRIORITIES
*Hours – 16.9%
*Lights – 12.9%
*Observed vehicle defects – 12.2%
*Brakes – 10.3%
*Lack of periodic inspection – 7.2%
*Tires – 4.6%
10. Iowa
Inspection intensity rank: 19
Clean inspections: 25.5%
VIOLATION PRIORITIES
*Hours – 17.1%
*Lights – 16.5%
*Observed vehicle defects – 15%
*Brakes – 9.8%
*Lack of periodic inspection – 5.3%
*Speeding – 4.3%