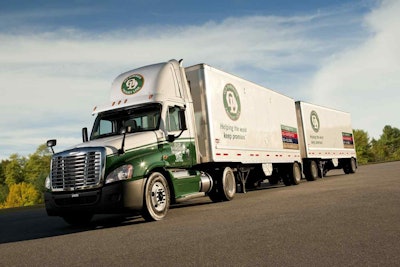 Guess which North Carolina-based less-than-truckload company just opened yet another service center? Yep, the folks down in Thomasville – Old Dominion Freight Line – have relocated their service center in Portland, Ore., to a larger 137-door facility located at the convergence of a number of thoroughfares and near two ports.
The Portland Service Center serves a number of cities in the area, including Beaverton, Hillsboro, Tillamook, Tigard, Tualatin, Wilsonville, McMinnville, Woodburn, Salem, Clackamas, Gresham, Sandy, Hood River, The Dalles, Vancouver, Washougal Woodland and Longview.
Not to be outdone in the Carolina LTL expansion wave, our friends in Lexington, S.C. – Southeastern Freight Lines – have a new 37-door facility in Lubbock, Texas, to be closer to its customer base and allow for earlier deliveries and pickups.
To oversee daily operations, Southeastern promoted Kelly Brackeen to service center manager in Lubbock. Brackeen has 14 years of experience in warehousing and transportation, most recently serving as assistant service center manager in the company's Tyler facility.
Keeping pace in the LTL boom is Richmond, Va.-based Estes Express Lines, which has opened a new terminal in Kent, Wash., to accommodate increased demand for the company's services in the Northwest.
The terminal features 65 doors, 24,000 square feet of docking area and 5,000 square feet of office space. Estes now operates five terminals in Washington State.
We'll wrap up our LTL service center expansion roundup with Dayton Freight Lines, which opening its newest such facility in Brownstown, Mich.
The Dayton, Ohio-based company says the 72-door facility doubles its door capacity in the southeast Michigan market and allows it to speed up and improve service in the state, where it now has six service centers.