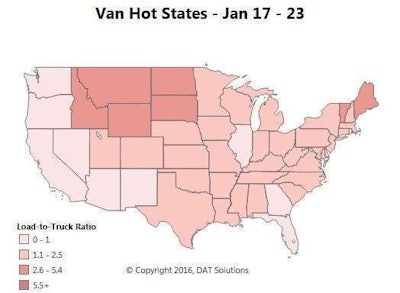 DAT's Hot States map as a general rule got lighter last week, reflecting declining demand on the spot market for trucks pulling dry vans — the load-to-truck ratio fell from 1.7 to 1.5 loads per truck. That brings the ratio for January to date down to a seasonally tepid 1.9.
As with the last update, the demand lull on the West Coast continues, likewise in Florida and Georgia, with areas of intense demand in the Upper Midwest and Idaho.
Demand is likely to heat up in the Mid-Atlantic and Southeast regions this week, as the area digs out from under 2 to 3 feet of snow. Be sure to check on road conditions and outbound load availability before you go in.
Rates rose in select areas, however, despite what DAT's Ken Harper calls this time of year, historically "a down time" of the calendar.
There are some bright spots on particular lane for vans, however, as he points out:
Rates from Philly to Charlotte rose 5 cents a mile last week — Charlotte to Philly dropped 2 cents, but it's a net gain on the roundtrip. Prices could go higher now following last weekend's storms. (For ideas on how to improve this lane by breaking up the North-South run, see the chart below for average-lane-rate comparisons from last week with a Pittsburgh stop between.)
Rates from Memphis to Atlanta: up 20 cents, and the return rate lost just 4 cents — the roundtrip rate average is sitting at $1.79/mile and this lane could be strong this week.
Chicago to Denver added 21 cents per mile last week to $2.22/mile. That may sound great, but Denver to Chicago showed a $1.02 average. It's been going up this week, Harper says, but it's almost never easy to find a good load out of Denver. Be sure to get paid well on your way in.