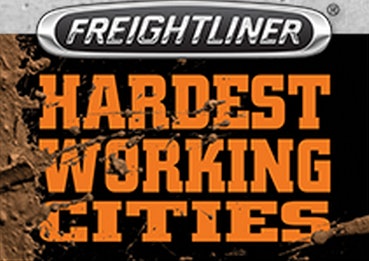 New York City, Charlotte, Edmonton and Seattle-Tacoma have been added to the list of Freightliner's Hardest Working Cities.
Freightliner announced the new cities Feb. 3 at the World of Concrete trade show in Las Vegas. The cities will join Dallas, Indianapolis, Los Angeles, Nashville, Salt Lake City and Toronto as recipients of the award.
Freightliner launched the program to honor cities "spearheading community growth and innovation." The program came after an economic data review revealed a "compelling relationship between the purchase of severe duty trucks and thriving economies," the company says.
As part of a city's recognition, Freightliner hosts a celebration where elected officials and business leaders can accept the award. In addition, Freightliner visits city work sites and has coordinated surprise gift and food deliveries "to thank workers for their contributions." To date, the company has visited 12 work sites and thanked approximately 800 workers across six cities.
Eleven different criteria — ranging from impact on overall gross domestic product to employment growth and performance in key industry sectors such as construction, manufacturing and logistics — are key in determining a city's selection in the program.