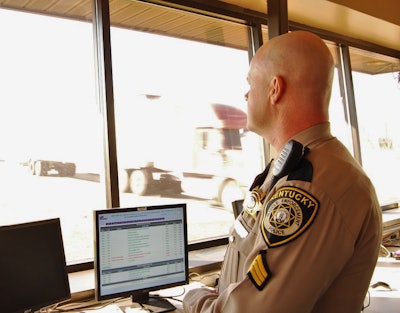 With the Federal Motor Carrier Safety Administration's Wireless Roadside Inspection research project in its third and final phase, the Drivewyze company is beginning its own four-state field test of Level 3 electronic inspections, or "e-inspections." According to Brian Heath, president and CEO of the weigh-station bypass and screening-technology company, the program will be getting under way this Spring on lanes in Virginia, Maryland, Delaware and Pennsylvania in cooperation with enforcement departments in those states.
Think of it as a proof-of-concept that technology can speed up the process of a Level 3 driver inspection to save drivers and officers time, Heath says. Participating trucks will necessarily be equipped with electronic logging devices (models available today and capable of transmitting information to roadside) as well as the Drivewyze PreClear bypass system.
Via the devices and underlying software, "all of the data elements on the Level 3 form will be pre-filled," says Heath. "The inspection officer will then walk up to the truck with a [mostly] filled-out inspection form and they'll be able to validate what they'll need to validate. The goal is they can then press that button to complete the inspection."
Today, as Heath notes, it's impossible to completely file a Level 3 without officer interaction with the driver, given Commercial Vehicle Safety Alliance guidelines for such inspections continue to be based on the roadside realities as they've been for years, including language directing officers to "'walk up to the vehicle, greet the driver' and the like," Heath says. "We can collect most of the data elements" required to populate a Level 3 inspection form, but some things will remain the purview of hands-on enforcement.
"Assessing drug and alcohol," he adds, "and whether a driver is wearing the seatbelt – you can't really automate that."
Drivewyze in 2013 demonstrated how existing commercially available technologies could be used to populate a Level 3 inspection report in such a manner, with data adequate enough to efficiently upload what could become an official "e-inspection" of a driver in a truck using electronic logs. Heath authored a white paper the same year that argued for an "alternative compliance framework" for such inspections, from which safety credits within the CSA program might be gleaned.
Carriers interested in participating in the e-inspection field demonstration Heath directs to express their interest via Drivewyze.com.
The FMCSA's own Wireless Roadside Inspection research project's final phase, as reported earlier this week, is set to move in earnest in March in mostly Southeastern states. Read more about it via this link.