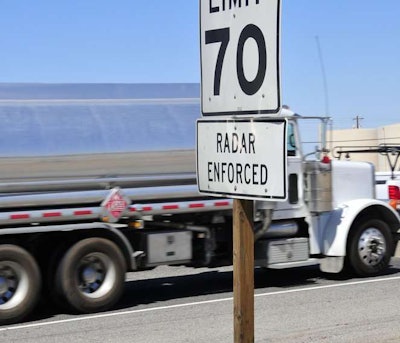 The projected publication dates of two looming trucking regulations have been delayed again, according to the Department of Transportation's monthly regulatory update. The delayed rules include a proposal to require speed limiters and one to develop a database of truckers who have failed a drug or alcohol test.
The DOT pushed back the projected publication date for the rule to require speed limiters on heavy-duty trucks to April 22. In February's report, the rule was projected to be published March 15. This rule could require governors on all trucks weighing more than 27,000 pounds. The proposed rule, a joint effort from FMCSA and another DOT agency, has been stuck in the White House's Office of Management and Budget since May 2015.
A Final Rule that would implement a CDL Drug and Alcohol Clearinghouse is now projected to be sent to the White House's Office of Management and Budget on April 18 and published on July 28. In February's DOT report, the rulemaking was set to be sent to the OMB on March 7 and published June 17. The rule will establish a database of CDL holders that have failed or refused a drug test and requires carriers to upload this information to FMCSA at least annually. It would also require carriers to query the database when hiring drivers.
Two rulemakings were published since the February report was issued. A pre-rule to collect data on obstructive sleep apnea and the impact it has on the trucking industry was published March 10. The proposed Entry-Level Driver Training rule that, if made final, would implement a required curriculum for prospective truck drivers before getting their CDL, including 30 hours behind the wheel, was published March 7.