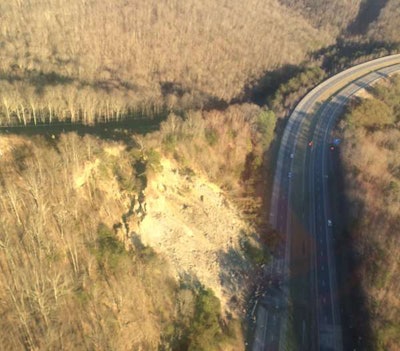 For first time since Feb. 26 all lanes are open on I-75 in Campbell County. The 2nd NB lane opened at approx. 445pm. pic.twitter.com/BTnOVvf50N

— Mark Nagi (@MarkNagiTDOT) April 13, 2016
Two lanes in both directions were reported open last week, April 13, by the Tennessee Department of Transportation following the rock slide in Campbell County that in late February closed I-75 for a time in both directions, near the Kentucky border. Both NB lanes had been closed completely for nearly a month when a single lane reopened in late March.
Traffic moving smoothly in both lanes on I-75 North in Campbell County. pic.twitter.com/eesLVvi2V3

— Mark Nagi (@MarkNagiTDOT) April 13, 2016
Some work continues in the area, as the pictures here make clear, so continue to use caution in the area.
I-75N yesterday, a good example of how close crews work to traffic. Please use caution in work zones. #NWZAW2016 pic.twitter.com/kKVIiR4KIL

— Mark Nagi (@MarkNagiTDOT) April 14, 2016
Take heed likewise of major slowdowns on I-40 in Roane County, where bridge work through late May will reduce the interstate to a single lane in both directions, TDOT reports.
The lane closures are confined to a brief portion of the highway between milemarkers 350 and 352, says TDOT spokesman Mark Nagi.
Tweets from https://twitter.com/channel19todd/lists/roads-511