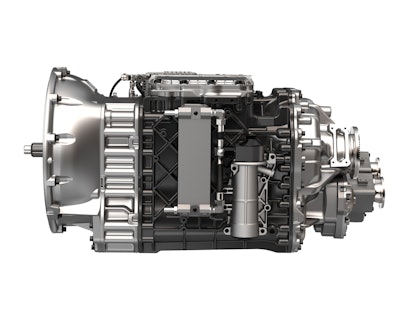 Mack Trucks' 13-speed automated manual transmission, the mDrive HD, will be standard on 2017 Mack Granite models.
Mack unveiled the 13- and 14-speed models of the transmission in March, and they will be available for purchase in October.
Unique to the mDrive HD is a low ratio creeper gear. It will be available in direct and overdrive configurations, and allows buyers to select a faster gear ratio to decrease rpms at highway speed.
The addition of the low-reduction creeper and multispeed reverse gears, Mack says, is made possible by a short extension added to the front of the transmission case. Despite the additional capabilities, the new mDrive HD models are less than five inches longer and only 90 pounds heavier than the standard mDrive HD.