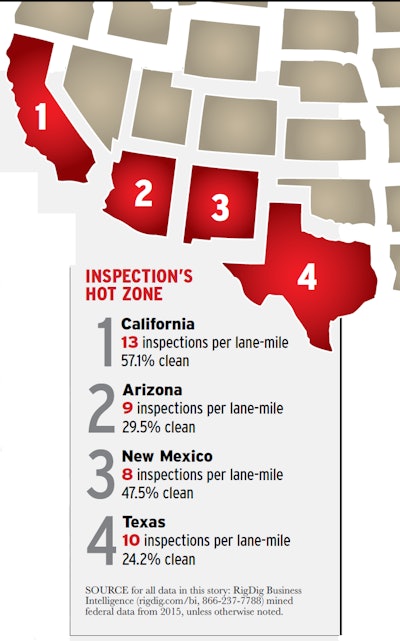 Among the four states on the U.S.-Mexico border, inspection numbers overall are among the highest in the nation, as Overdrive reported in 2015 in its profile of the Arizona enforcement program. With this year's update, California, Texas and Arizona are the Nos. 2, 3 and 4 most-intense states when it comes to incidence of inspection, behind perennial leader Maryland. New Mexico sits not far behind at No. 6.
The inspection intensity measures are affected by a large number of border inspections of Mexican-domiciled trucks. Of 95,000 total inspections in 2015, says New Mexico Capt. Greg Kerr, about 15 percent were conducted by dedicated staff at the state's Santa Teresa facility on trucks coming in from Mexico.
What's more, as the clean-inspection rates make clear, from a violations perspective, New Mexico's more in line with clean-inspections champ California than the other two violation-heavy border states.
Read more about New Mexico's program via this link: