NOTE: Interstate 95 has reopened fully in South Carolina, Georgia and Florida, according to state officials. Parts of Interstate 95 in North Carolina remain closed, however, due to debris and flooding. See Overdrive's latest coverage at this link.
Here's the original story from this weekend on the storm's impact:
Updated: 12:35 p.m. CDT, Oct. 9.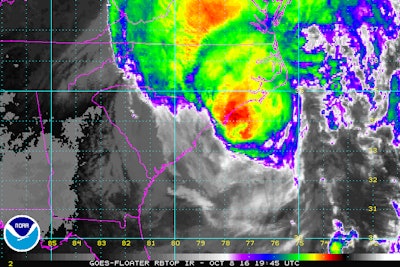 Updated: Interstate 95 in Georgia is open to traffic, though a mandatory evacuation remains in effect for that area of the state. While I-95 is not officially closed in South Carolina, all lanes are blocked in places in the state. North Carolina has also closed portions of Interstate 95 due to flooding or debris, including at Mile 44 and between Miles 116 and 119 (as of early Sunday afternoon). Portions of Interstate 40 are also closed in the state.
Click here to see the latest on closings in South Carolina.
See closings in North Carolina at this link.
And see the latest road updates from Georgia at this link.
See the original story below.
Portions of Interstate 95 in the southeast, both northbound and southbound lanes, are closed due to flooding, debris, fallen trees and mandatory evacuations caused by Hurricane Matthew.
The Georgia DOT reported as of 3:45 p.m. EDT Saturday that I-95 is closed in its coastal regions, and the state is urging people to not return to the evacuated coastal areas until the areas are declared passable.
South Carolina's 511 also reported Saturday afternoon blockages on nearly 70 miles of Interstate 95 in the state, citing multi-vehicle crashes, fallen trees, floods and more as why. See the full list of Matthew-related closures/blockages in the state here. I-95 in South Carolina is reportedly closed between the Georgia state line and Exit 68 for State Highway 61. Other portions of the Interstate are closed in the state too, officials say.
South Carolina has seen large amounts of flooding and many road closures as a result of the storm, which scraped a large portion of the Florida coast Friday before officially making landfall in South Carolina Saturday morning. The state is urging motorists to not return to the evacuated areas until the state lifts the evacuation order.
The Weather Channel also reported on Twitter heavy rain on I-40 in North Carolina, where the storm is projected to hit next. State officials in North Carolina have not reported any Matthew-related road closures yet.
Florida's reporting much fewer closures, mostly on state routes. See the full list here on Florida's 511 website.
North Carolina, South Carolina, Georgia and Florida have issued emergency waivers suspending some trucking regulations.
See tweets from both states and from local media coverage below.
Follow @SCEMD
Follow @fl511_state
I-95 Dillon County has flooding on both North and South bound at 186-187 mm. Find alternate route.

— Trooper Sonny SCHP (@SCHP_Troop5) October 8, 2016
Evacuees, residents should STAY PUT. Hazardous and life-threatening conditions remain for next 12 hours. DO NOT TRAVEL. #Matthew

— SCEMD (@SCEMD) October 8, 2016
Roads can wash out quickly. Do not leave your house. Do not drive around barricades. This picture is from Pee Dee Hwy. in #Horry County pic.twitter.com/clZVzd9xmT

— SCEMD (@SCEMD) October 8, 2016
The National Hurricane Center says Hurricane #Matthew made landfall just southeast of McClellanville, S.C. https://t.co/uUkUk4FFs7

— The Associated Press (@AP) October 8, 2016
Danger! STAY AWAY from evacuated areas along coast until weather conditions improve and danger subsides. #Matthew

— SCEMD (@SCEMD) October 8, 2016
Flowing water across Maxwell Road in @CountyofSampson. #Matthew #wral pic.twitter.com/ex2lyYgItt

— Nick Stevens (@NickStevensHSOT) October 8, 2016
BREAKING: This is Chatham Pkwy near Telfair Place. That's between the I-16 exit & Hwy 80 #HurricaneMatthew pic.twitter.com/XEXNREgDp4

— WTOC Marla Rooker (@WTOCMarlaRooker) October 8, 2016
Relentless rain on i40 as we drive toward Wilmington, NC.
Safe speed under 60mph providing you have deep treads. #Matthew pic.twitter.com/FR9pw0yMwh

— Jim Cantore (@JimCantore) October 8, 2016
Download the ReadyNC App for real-time traffic & weather conditions, river levels, evacuations & power outages. https://t.co/1JujgeLVhA

— NCDOT (@NCDOT) October 8, 2016