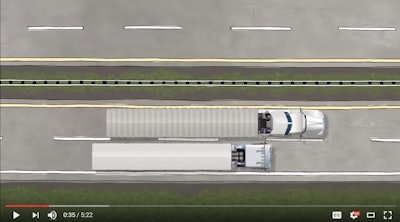 As part of its recently launched "Knock Out Bad Regs" campaign, the Owner-Operator Independent Drivers Association has created an animated video depicting the dangers of speed limiters on trucks, which can be seen above.
The Department of Transportation proposed a speed limiter rulemaking in 2016, but did not specify in the proposal a speed to which truck would be governed. Instead, the rulemaking was more of a fact-finding effort to get more information about the pros and cons of three speeds – 60 miles per hour, 65 mph and 68 mph.
OOIDA has been opposed to such a mandate from the beginning, saying "such devices create congestion and speed differentials, which lead to higher accident involvement rates."
The video offers infographics and animations about what happens with traffic when trucks are governed to certain speeds, and it also includes an interview with Steven Johnson, a researcher who has conducted studies on highways and speed.
"Studies and research have already proven what we were all taught long ago in driver's ed classes, that traffic is safest when vehicles all travel at the same relative speed," said Norita Taylor, OOIDA spokesperson. "Limiting trucks to speeds less than the flow of traffic increases interactions between vehicles which can lead to more crashes."
As reported by Overdrive in February, President Donald Trump's executive orders to halt new regulations could be the end of the line for the mandate.