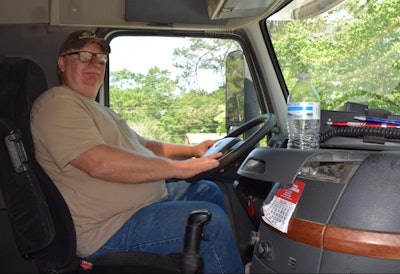 Joey Woodle has wanted to be a truck driver since he was a little boy, but until recently, one major hurdle was standing in his way – he is deaf and unable to pass the whisper test portion of the DOT physical.
In 2013, the Federal Motor Carrier Safety Administration granted its first set of exemptions from the hearing portion of the physical, opening the door for Woodle and other deaf and hard-of-hearing individuals to obtain Class A CDLs. An FMCSA spokesperson said the hearing regulations were put in place decades ago, and advancements in technology and medical science have allowed the agency to issue more medical exemptions than in the past.
Woodle, a 50-year-old from Huntsville, Ala., grew up in a trucking family. His father and uncle are both truckers, and he said he rode along with them and grew to love trucking at a young age.
"I thought it was really interesting, and I thought 'well, I can do that too,'" Woodle said through his interpreter, Liz Spiller, who worked with him through Easter Seals Central Alabama. "My dad taught me a lot of different things about trucking, and it really got me excited and motivated, and I really hoped I'd be able to do it even though I was deaf."
He obtained his Class A CDL in Alabama on Wednesday, May 9, after passing his skills test. He is one of the first deaf people in the state to obtain his Class A license in the five years since FMCSA began granting hearing exemptions.
In an effort to make it easier for others in the deaf community to get into trucking school and earn a CDL, Woodle's interpreter, Spiller, and others are working with the Alabama Law Enforcement Agency to develop a plan that can be used to streamline the process for prospective deaf truckers. Spiller said that the program could then be shared with other states to try to help deaf CDL seekers in other states.
Woodle's journey wasn't an easy one.
He has been working with the Alabama Department of Rehabilitation Services (ADRS) for 27 years to find a career, working various jobs through the years but never finding his passion.
Quentin Morris, Woodle's vocational rehabilitation case manager at ADRS, said Woodle told him his dream job would be trucking, and they set out to make it happen. With the hearing waiver as a possibility, Woodle was able to begin the pursuit of achieving his dream.
He applied for the exemption, and about six months later, received word from FMCSA that he could exempt out of the hearing portion of the physical to obtain his medical card. From there, he had to study to obtain his commercial learner's permit.
"They have to give a waiver to me so that I can drive, then there's a medical card and clearance, and to get your permit you have to have all that," Woodle said. "I learned to get my permit first, then I waited for the driving test."
His next step was to find a CDL school that was willing to work with a deaf person in the classroom and on the road. He found Central Alabama Community College in Alexander City, Ala., which offers a six-week Truck Driver Training course. His instructor in the course, Willie Brooks, said he was as nervous as Woodle when the class first started.
"I had to learn some of the hand signs, and once I did that, it was no different than teaching anyone else," Brooks said. "We always had an interpreter with us, either in the classroom or in the truck, during training, so communication really wasn't an issue. The interpreters made it easy. If he made a mistake in the truck during training, we just pulled over and the interpreter explained it to him, then we got back on the road. Joey picked up everything fast. He was a great student."
Woodle said going through CDL school started out awkward while he and Brooks got used to working together, but after that, it was a smooth process.
"The first time [in the truck] was a little bit awkward learning how to drive and how to explain the shifting to me," Woodle said. "Mr. Brooks kept helping me practice and showed me what to do and worked different ways to make sure I understood it clearly as we drove around. As the process went on, it became smoother, and I started to understand clearly. Shifting was hard, but he really helped me."
On the day of his skills test, Woodle said he was nervous, but confident that he would pass.
"I really feel like I had a successful day," he said. "I was a little nervous for sure. It's a big truck. Remembering the names of everything and making sure you get everything just right."
Now that he has his CDL in-hand, the next step is to find a job. While there are challenges he will face on the road when communicating with customers and others, technology advancements in recent years have helped bridged that gap.
Deaf Truckers United, an advocacy group for deaf truckers, said communication with shippers and receivers usually happens using pen and paper or a cell phone. To communicate with dispatchers, deaf truckers can use text messages, emails or other in-cab devices that can send and receive text messages.
Morris said mobile phone apps that translate speech to text will be an option, as well as a video relay service, which Woodle could call and do a video chat, in which a translator on the other end would sign to Woodle what the customer was saying.
"The strides in technology in recent years has really opened doors for the deaf community," Morris said. "We will have to try different things to see what works best for Joey."
Morris added that as far as safety goes, deaf people generally have a higher sense of visual awareness than people with full hearing. Brooks noted that he saw that with Woodle in training.
"He's more alert and conscious of what's going on around him," Brooks said. "I have no doubt in my mind that he's going to be a successful truck driver."
Brooks added that more than one trucking company was interested in hiring Woodle after he took his skills test and obtained his CDL.
Woodle said he hopes his experience going through CDL training, passing the test and getting his CDL will encourage others in the deaf community to explore trucking as a career option.
"I wanted to show the other deaf that they can learn how to do this and be a truck driver," he said. "I'm excited to be able to show them that they can pass, and they can do it. I've been telling all my deaf friends they can do this."
Editor's note: All quotes from Woodle were made through his interpreter, Liz Spiller.