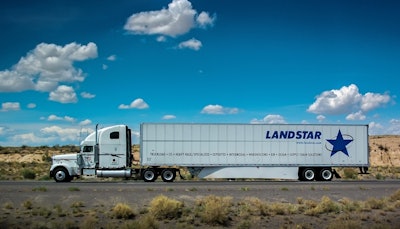 During Landstar's 7th annual All-Star Celebration held earlier this month recognizing its drivers' achievements, a total of 166 owner-operators were honored for reaching safe driving milestones with the company.
Fourteen of the company's owner-operators were honored as Landstar Roadstar recipients, which is one of the company's highest honors for drivers with "consistently high levels of safety, productivity and excellence in customer service."
Additionally, the company also recognized 138 drivers for one million safe driving miles, 12 for two million safe driving miles, one for three million safe driving miles and one for four million safe driving miles.
Landstar also announced earlier this week one of its Million Mile Safe Drivers, David Zelsdorf, was the winner of the Landstar All-Star Truck Giveaway, which awarded a 2019 Western Star 5700XE.