Trucking news and briefs for Thursday, Feb. 17, 2022:
Seven more charged in New Orleans staged-accident scheme targeting truckers
U.S. Attorney Duane A. Evans of the Eastern District of Louisiana announced this week seven more indictments in the widespread staged-accident fraud scheme targeting trucking carriers and their insurance companies.
Florence Randle, 70, of Gibson, Louisiana; Stacie Wheaten, 50, of Atlanta; Joseph Brewton, 56, of Houma, Louisiana; David Brown, 50, of Morgan City, Louisiana; Gilda Henderson, 69, of Morgan City; Latrell Johnson, 30, of New Orleans; and Larry Picou, 56, of Gibson, were all charged, bringing the total number of indictments in the case to 47.
All seven individuals were charged in a 10-count federal indictment. They were all charged in Count 1 with conspiracy to commit mail fraud. Brewton was charged in Counts 2-7 with mail fraud. Brown, Henderson, Johnson and Picou were charged in Counts 5 and 6 with mail fraud. Randle and Wheaten were charged in Counts 7 through 10, which also charge mail fraud.
If convicted, the defendants face a maximum penalty of five years for Count 1 and 20 years for each of the mail fraud counts. Upon their release from prison, each defendant can be placed on a term of supervised release for up to five years and fined up to $250,000 per count. A mandatory special assessment fee of $100 per count is also applicable.
According to court documents, Brewton, Randle and Wheaten served as intermediaries who directed passengers to participate in staged automobile accidents. Brewton allegedly helped to arrange collisions that took place on March 27, 2017 and May 11, 2017. Randle and Wheaten allegedly helped to coordinate collisions on May 17, 2017 and June 5, 2017.
The indictment alleges that Brown, Henderson, Johnson and Picou falsely claimed that they were passengers in a car that was struck by a tractor-trailer on May 11, 2017. In fact, the defendants conspired with Brewton, Damian Labeaud, Mario Solomon, and others to intentionally collide with a tractor-trailer in the area of Chef Menteur Highway and Downman Road in New Orleans, the indictment alleges.
After the alleged intentional collision, Brown, Henderson, Johnson and Picou allegedly made a false police report, lied in depositions and filed fraudulent lawsuits claiming that the tractor-trailer was at fault. This scheme caused the insurance company for the tractor-trailer's owner to pay over $140,000 in settlement funds.
[Related: After the worst happens: Nuclear verdicts threat, impact rolls downhill to small fleet, owner-ops]
Six states now conducting e-inspections, Drivewyze says
Electronic inspections (e-inspections) at weigh stations are now being conducted in a pilot program enabled in part by the Drivewyze company in Kansas, Maryland, Maine, New Hampshire, Virginia and Utah, at select weigh stations.
According to Brian Heath, President and CEO of Drivewyze, the program is currently operating in a phase one deployment that expedites CSA-crediting Level III driver-credentials inspections. Drivewyze will deliver more information on phase two of the program that builds toward a vision of an in-motion Level VIII inspection in the coming months, the company said. Phase one, the company believes, is already delivering material benefits to participating agencies and fleets and marks a step forward in Drivewyze's goal to change roadside inspections.
"Traditionally, officers need to screen carrier and driver data against multiple back-office systems, each requiring a different login and manual data entry," said Heath. "The process is time-consuming for officers as they juggle access and data entry into multiple federal and state systems. Credentials are often entered multiple times into unintegrated systems, which wastes time; and officers are only human, so it's natural that errors occur in the process."
With e-inspection, carrier and driver credentials, as well as hours of service data, are transferred wirelessly from the Drivewyze platform, which is embedded in the vehicle's onboard electronic logging device (ELD). Officers don't need to collect this information manually, nor do they need to manually enter the information into multiple screening and inspection systems. "This dramatically reduces the time and errors that can happen with traditional roadside inspections," said Heath. "We've seen e-inspections reduce the time for a 'clean' Level III inspection from close to 30 minutes, sometimes more, to only a few minutes."
Any fleets subscribed to Drivewyze PreClear weigh station bypass service can request to participate in the e-inspection pilot project. Drivewyze's ELD partners are continuing with software updates so fleets can opt-in to this option. Currently, fleets using Platform Science and Geotab platforms can access and utilize e-inspections, and Trimble support is currently in development.
[Related: 'Level 8' electronic inspection recognized by CVSA with other bulletin, policy updates]
Pennsylvania third-party CDL examiner pleads guilty to wire fraud
Roberto Correas pleaded guilty in the U.S. District Court for the Eastern District of Pennsylvania on Jan. 31 to 12 counts of wire fraud, according to the Department of Transportation Office of Inspector General.
In November 2021, Correas, a former third-party CDL examiner, was charged after an investigation revealed that between February and March 2018, he provided pre-signed CDL skills examination score sheets to a co-conspirator, who completed the sheets with passing scores to fraudulently qualify individuals who did not actually take the CDL test.
In addition, between September and October 2018, Correas conducted CDL skills examinations on a company's behalf. Correas charged applicants $275 each but kept the money instead of submitting it to the company.
[Related: 'Entry Level' training regs are here for new drivers]
Driver recognized for helping find missing elderly man
The Truckload Carriers Association has named Elwood Blackstock, from Eden, North Carolina, a Highway Angel for helping safely locate a missing elderly man described in a Silver Alert.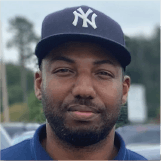 In early November, Blackstock, a driver with Best Logistics Group, was on Route 40, about 40 miles outside Wilmington, North Carolina. It was 3 a.m. when he received a Silver Alert about a missing elderly male.
He soon spotted a driver and vehicle matching the missing man's description and called 911 to report the man's location. Blackstock kept an eye on the gentleman until police arrived, who were then able to safely pull the driver over.
Blackstock has been a truck driver for six years, with five of those being with Best Cartage, one of three fleets at Best Logistics Group.
TCA has presented Elwood with a certificate, patches, lapel pin and truck decals. The company has also received a letter acknowledging him as a Highway Angel.