Christopher Lloyd is Highway Angel of the Year
For the first time in its history, the Truckload Carriers Association's Highway Angel program asked the general public to vote on the 2021 Highway Angel of the Year. At the Truckload 2022 conference this week in Las Vegas, program sponsor EpicVue's CEO Lance Platt introduced the winner of 1,600-plus votes from all over the world, truck driver Christopher Lloyd.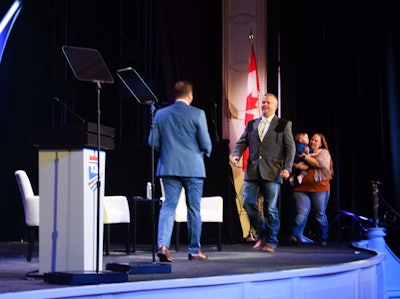 Platt retold Lloyd's remarkable story from the stage, chronicled last year in Overdrive at this link, also excerpted here. Lloyd, based in Mississippi, hauls for Airline Transportation Specialists and had stopped at a crash scene to assist two motorists after their car hit a utility pole and erupted into flames.
Lloyd was driving in pre-dawn hours at the time, late November 2020, along a surface street on his way to the FedEx hub in Nashville. A car had struck a galvanized power pole at a high rate of speed. When Lloyd arrived, the engine compartment was completely engulfed in flames.
"There were other vehicles pulling up and watching, taking pictures, but not getting out to help," Lloyd said. He tried to put the flames out with his fire extinguisher but couldn't put them out completely. He also tried to open the doors but found them locked.
"I ran back to the truck for a winch bar and my 10-pound hazmat extinguisher to finish putting the fire out and to bust out the windows," he said.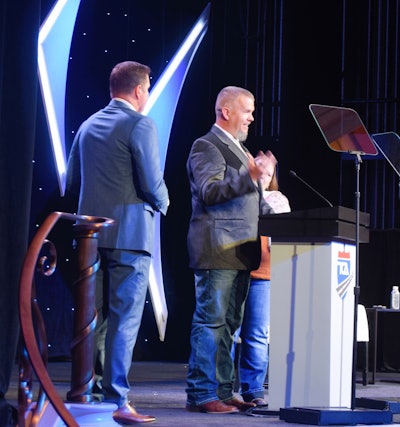 The car's cabin was filled with smoke, and other people were now stopping to help. Lloyd found the female driver pinned behind the wheel.
"She was unresponsive, but breathing," he said. "The male passenger ended up in the back seat and was in pretty bad shape. I checked and found a pulse and he was breathing."
He directed another person to hold the man's neck still and not to move him. Lloyd says that since the fire was extinguished that was the safest thing to do until emergency responders could arrive. The driver and passenger were both transported in extremely critical condition. Lloyd later learned that he was the only one who called 911.
A police officer told him the pair would have burned alive if it weren't for him.
"That wasn't my normal run that night," Lloyd said. "The driver that usually takes that run had broken down. The dispatcher called and asked if I could take it. I was delayed by over an hour, but somehow it all lined up for me to be there at that precise moment in time to hopefully save their lives."
The pair, said Platt at Truckload 2022, did ultimately walk away with their lives.
[Related: Royford Burris named Highway Angel of the Year 2020]
DOT Secretary Buttigieg on trucking as a 'gateway to the middle class'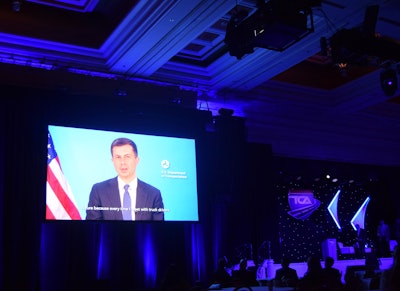 Department of Transportation Secretary Pete Buttigieg addressed the Tuesday general session of TCA's Truckload 2022 conference via video, after being invited to speak in person.
Buttigieg emphasized preservation of the business of trucking as a "gateway to the middle class" for those involved in it, something he noted he'd heard not only from support personnel in the industry but most importantly from drivers. To do so, he noted, he urged attendees to work with all stakeholders, including government, to improve core issue areas that are making the truck driving career "harder than it should be."
He identified core areas of compensation and conditions as primary in near-term improvements, lauding TCA members for helping "put a much-needed spotlight" on unpaid detention time, he said. He also called out large amounts of "debt that can be associated with training."
[Related: 'Unpopular opinions' on training regs newly in effect last month]
The TCA earlier in the week announced they had joined onto the DOT initiative to combat those debt loads with more participation in the registered apprenticeship program of the Department of Labor. TCA, as did the American Trucking Associations before them, became a sponsor for its member companies to offer working apprenticeships to job applicants while TCA and partner FASTPORT -- a DOL intermediary specializing in transportation and logistics -- administers the program for the participating companies.
The association noted that carriers Melton Truck Lines, Tyson Foods, and D.M. Bowman have already signed on to the program to create apprenticeship programs that are what Buttigieg called "high-quality on-the-job training" that is paid, not paid for by the trainee.
Buttigieg also stressed the need for continued advocacy to states around infrastructure improvement projects and the availability of federal grant dollars for badly needed truck parking facilities investment. "We are actively working with states on truck parking," he said. "I've pushed for states to use their funds or submit applications for federal grants so that I can use those dollars" for truck parking. "We know how much parking is a priority for you, and that makes it a priority for us, too."
[Related: The truck parking impact of Jason's Law, nearly a decade in]